Fun day with a serious side at historic South Derbyshire venue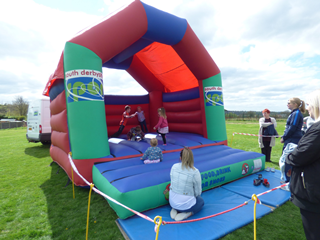 Families are being invited to kick off the Easter holidays in style with a community fun day in the heart of South Derbyshire.
The free event at Gresley Old Hall will feature a whole range of sporting activities, from giant games to soft archery, as well as a bouncy castle, indoor bowls, willow weaving, print making and an afternoon tea dance.
Gresley Colliery Band will provide live entertainment alongside facepainting for children, with refreshments available.
The day is part of a drive to develop the Church Gresley venue as a 'community hub' by increasing its use during the daytime and attracting new activities.
Those who attend will be asked to fill in a short questionnaire about how they would like to see the Old Hall's extensive facilities used in the future.
It is hoped the hub will have a positive impact on the lives of local people, particularly benefiting the elderly, low-income families and those who are vulnerable or isolated.
The project will be delivered in partnership by South Derbyshire District Council, South Derbyshire CVS, Derbyshire County Council and the trustees of Gresley Old Hall.
Chris Smith, Communities Manager at the District Council, said:
"Gresley Old Hall is a long-established community facility with fantastic facilities that we want to see put to even better use.
"There are so many opportunities and potential benefits for local people and we want to hear their ideas as part of the Community Fun Day."
The community fun day takes place between 10am and 4pm on Monday, 10 April 2017, with the afternoon tea dance running between 2pm and 3.30pm.
People of all ages are welcome, there's no need to book.
For more information email: chris.smith@southderbyshire.gov.uk or tel: 01283 595924.
5 April 2017