Learn to Ride sessions available in South Derbyshire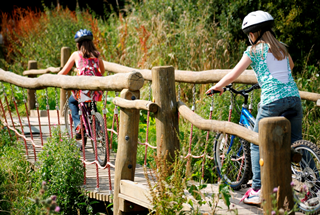 Sessions are on offer to give people a helping hand in gearing up to ride a bike safely.
Bikeability is part of a national cycle training scheme that helps to give people of all ages the skills and confidence to ride a bike on their own.
Cycling is healthy and fun, but it is necessary to learn how to do it safely – that's why Get Active in the Forest has set up a session at Rosliston Forestry Centre where people can learn how to control a bike in a traffic-free environment.
On Tuesday 14 February 2017 between 10am and 2pm, people can take part in different session levels - whether they are just starting out or if they want to use their bike more safely or more often, all needs are catered for.
Tor Adams, assistant development manager at Get Active in the Forest, said: "The session has professional staff on hand to help people of all ages work towards their goals.
"It will give people a relaxed atmosphere to practice and learn in while being around people of the same capabilities."
Bike hire is available and booking is essential, with a £20 deposit to be refunded on attendance.
Anyone wishing to find out more information or book themselves onto the session should call Rosliston Forestry Centre tel: 01283 563483 or contact Alex Rowley-Kearns email: alex.rowley-kearns@south-derbys.gov.uk
2 February 2017