Concert Proves An Uplifting Occasion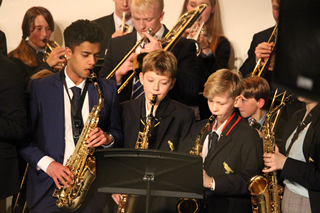 A concert involving musicians of the past, present and future from a Derbyshire school has raised more than £2,000 for the Derbyshire, Leicestershire and Rutland Air Ambulance.
Foremarke Hall, Repton's prep school, was asked by The Chairman of South Derbyshire District Council, Cllr Michael Stanton, to organise a concert in Repton School's 400 Hall in support of his chosen charity, the region's air ambulance.
A programme of music designed to appeal to all tastes and ages was performed by some of the school's current musicians, some former pupils and, to represent musicians of the future, members of the school's Training Band. Also performing was six-year-old Jasiel, a promising cellist from Foremarke's Pre-Prep.
Commenting on the concert, Cllr Stanton said:
"I am very pleased with the whole evening, particularly the exceptional talent of the young students performing in such a wonderful theatrical space.

"The amount raised, £2241, is excellent and I would like to thank everyone involved, not only the musicians but also those who supported the event with technical sound and lighting skills, design, contacts, selling of tickets and marketing."
Talented cellist Jasmine Leavesley, currently studying for A-levels at Repton School and who has performed for the Duke of Kent, sung on Radio 4 and recently worked with Will Young on her own composition, was among performers at the unique charity concert.
Other past Foremarke musicians who featured included Ana Peters who was a member of the National Children's Orchestra (NCO) for three consecutive years while at Foremarke; Biscuit Band brass quartet founder Matthew Rhodes; and another former NCO member Rika Canaway, who is currently studying for her French Horn diploma alongside A-levels.
Foremarke Hall Director of Music Susan Bloor said:
"Bringing the different age groups together worked very well and we are extremely proud of the talented young musicians who worked so hard to make this such an enjoyable and successful evening."
16 January 2018