Chairman raises thousands for charity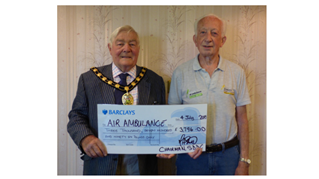 The former Chairman of South Derbyshire District Council has handed over £10,000 to his chosen charity Derbyshire, Leicestershire and Rutland Air Ambulance.
During the past two years of being Chairman, Ticknall resident Michael Stanton helped to raise vital funds through family-friendly community events such as the uplifting Concert By Pupils of Foremarke Hall in the 400 Hall, Repton School and an 'Evening of Song' with the Gresley Male Voice Choir.
The charity flies two regional air ambulances, across the counties of Warwickshire, Northamptonshire, Derbyshire, Leicestershire & Rutland, and provides a rapid response to trauma and medical emergencies.
Mr Stanton met volunteer for the charity John Burney at the Civic Offices who did the honours and collected the latest £3,796 cheque. In his previous year as Chairman, Michael had raised £6,212, making it a grand total of £10,008 in just two years.
Mr Michael Stanton said:
"I am so pleased and proud to have raised £3,796.00 for the Derbyshire, Leicestershire and Rutland Air Ambulance last year.

"The service and its team provide life-saving missions, especially where ambulances can't access during an accident like busy motorway junctions. I think they do a fantastic job.

"We're very grateful to the people of South Derbyshire who have contributed to my chosen charity over the last two years. I'd like to thank people who have given money and people who have helped us raise the money through events, such as the concert in Repton, for all of the community to enjoy.

"The Air Ambulance has helped to save many thousands of lives and we hope that the money raised will help them to continue their excellent work."
Volunteer John Burney from the charity said: "The Air Ambulance relies on the generous donations from residents. Each mission costs around £1,800 - helicopters are very expensive to run, so this sum is a great donation to our cause to help the paramedics and pilots run the operation and save lives.
"We'd like to thank the support of our wonderful donors, supporters and volunteers, whose generosity over the years has been fantastic.

"Your support will help keep us flying and saving lives."
10 July 2019