South Derbyshire enters tier four COVID-19 restrictions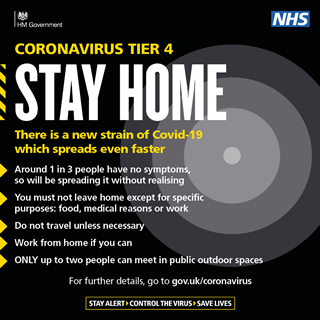 South Derbyshire joins the rest of Derbyshire in tier four restrictions from New Year's Eve, Thursday 31 December.
This means you should not leave your home or garden without a reasonable excuse. This includes:
Work and volunteering where your workplace is open and you cannot work from home
Essential activities such as buying essential supplies from businesses which are allowed to remain open
Fulfilling legal obligations including buying, selling or letting residential property
Education and childcare
Exercise and recreation – you can continue to exercise outdoors or visit some public outdoor places, such as parks, the countryside accessible to the public, public gardens or outdoor sports facilities with your household, support bubble, or with one other person if you maintain social distancing
Medical reasons, harm and compassionate visits – you can leave home for medical appointments, to escape risk of harm or to visit someone in hospital, hospice or care home if allowed
Worship – you can continue to attend public worship, weddings and funeral ceremonies although limits on the numbers of the people who can attend will still apply.
For more details, please visit the gov.uk website: Tier 4: stay at home I gov.uk.
People who are clinically vulnerable, could be at higher risk of severe illness from coronavirus and should:
be especially careful to follow the rules and minimise contact with others
should continue to wash hands carefully and more frequently than usual and maintain thorough cleaning of frequently touched areas in your home and/or workspace
Clinically vulnerable people are those who are:
aged 70 or over (regardless of medical conditions)
under 70 with an underlying health condition listed below (that is, anyone instructed to get a flu jab each year on medical grounds):
chronic (long-term) mild to moderate respiratory diseases, such as asthma, chronic obstructive pulmonary disease (COPD), emphysema or bronchitis
chronic heart disease, such as heart failure
chronic kidney disease
chronic liver disease, such as hepatitis
chronic neurological conditions, such as Parkinson's disease, motor neurone disease, multiple sclerosis (MS) or cerebral palsy
diabetes
problems with the spleen
a weakened immune system as the result of certain conditions or medicines they are taking (such as steroid tablets)
being seriously overweight (a body mass index (BMI) of 40 or above)
pregnant.
More information on those who are clinically extremely vulnerable is available on the gov.uk website: Tier 4: stay at home I gov.uk.
Non-essential businesses will close in tier four areas.
These include:
non-essential retail, such as clothing and homeware stores, vehicle showrooms (other than for rental), betting shops, tailors, tobacco and vape shops, electronic goods and mobile phone shops, auction houses (except for auctions of livestock or agricultural equipment) and market stalls selling non-essential goods – these venues can continue to be able to operate click-and-collect (where goods are pre-ordered and collected off the premises) and delivery services
hospitality venues such as cafes, restaurants, pubs, bars and social clubs; with the exception of providing food and drink for takeaway (until 11pm), click-and-collect, drive-through or delivery
accommodation such as hotels, hostels, guest houses and campsites,
leisure and sports facilities such as leisure centres and indoor gyms, indoor swimming pools, indoor sports courts, indoor fitness and dance studios, indoor riding centres, and indoor climbing walls
entertainment venues such as theatres, concert halls, cinemas, museums and galleries, casinos, amusement arcades, bingo halls, bowling alleys, skating rinks, go-karting venues, indoor play and soft play centres and areas (including inflatable parks and trampolining centres), circuses, fairgrounds, funfairs, zoos and other animal attractions, water parks and theme parks
indoor attractions at venues such as botanical gardens, heritage homes and landmarks must also close, though outdoor grounds of these premises can stay open
personal care facilities such as hair, beauty, tanning and nail salons. Tattoo parlours, spas, massage parlours, body and skin piercing services must also close.
community centres and halls must close except for a limited number of exempt activities.
More details are available on the gov.uk website: Tier 4: stay at home I gov.uk.
31 December 2020