Chair's support for hospice marathon walkers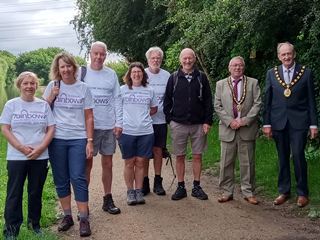 Chair of South Derbyshire District Council, Councillor Malcolm Gee, is lending his support to an ambitious local group which is planning a marathon walk to raise money for Rainbows Hospice for Children & Young People.
The six-strong Footloose Walking Group has received Councillor Gee's backing as they make final preparations for a 92 mile sponsored walk, which will see them stepping out alongside the Trent and Mersey canal, starting in Northwich on 23rd August and finishing in Shardlow on 29th August.
The last two days of the walk pass through South Derbyshire when the Council's Vice Chair, Councillor Paul Dunn, will meet with the Group to offer his support for the closing stages of the journey.
Councillor Malcolm Gee, said: "Rainbows Hospice is a fantastic facility and one I'm supporting during my year in office, so I'm delighted that the Footloose Group are doing the same through this marvellous walk. I would encourage everyone to help them on their way by making a donation on their Just Giving page."
Footloose Walking Group's Just Giving page is - www.justgiving.com/tony-haslam3
Caption - The Chair and Vice Chair met with the group recently to wish them well
11 August 2021