Free Tree Scheme
APPLICATIONS ARE NOW CLOSED

Our Free Tree scheme is run in partnership with the National Forest Company, and the neighbouring authorities of North West Leicestershire District Council and East Staffordshire Borough Council
As in previous years, you can apply for two trees per household, or 10 if you are applying on behalf of a school or community group. You can apply until Monday, October 28, 5pm.
This year's species are cherry plum, hazel, crab apple and holly.
Your household or community group must be based within the District of South Derbyshire. Check out the links to other District pages if you live in North West Leicestershire or East Staffordshire.
All the trees are two years old and approximately 30-60cms (up to two feet) high. We also supply information on how to plant and to look after them. Information can be downloaded here (pdf, 338kb).
Our 'giveaway' dates are Thursday, November 28 at Rosliston Forestry Centre and Saturday, November 30 on the Delph, Swadlincote from 10am – 2pm on both days. You can choose whichever you prefer.
Trees will be available on these dates ONLY, so please check you are available on one of those dates or find someone to collect on your behalf before you apply.
Share your pictures
We have been running the Free Tree Scheme for many years and love to see any photographs of trees you have planted.
Upload them to our Environmental Education Project Facebook page or tweet them to @RoslistonEnvEd.
What's on offer?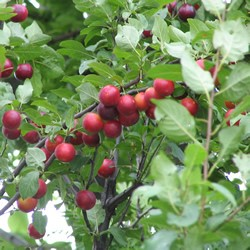 CHERRY PLUM Prunus cerasifera
The cherry plum is one of the first trees to flower, in mid-February. The flowers are white, with five petals. The fruit is 2-3 cm in diameter and yellow or red, reaching maturity from mid-August to mid-September. It may be eaten fresh in some forms: some say it is sweet but others argue that it is sour! It is excellent for jam making.
It produces root suckers so may become a 'thicket' of trees rather than a single tree (a bit like lilac). Young trees are often used as understocks (a root on to which another plant is grafted) for domestic plums.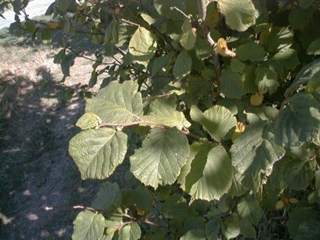 HAZEL Corylus avellana
A small, fast-growing, native, deciduous tree, that will grow to around 6 metres tall. It has edible nuts in autumn and bright yellow lambs tail catkins in February which provide essential early pollen for bees. A hazel tree can be coppiced to produce straight stakes for hedge laying, runner bean poles etc, but also makes a lovely small tree if left to grow.

HOLLY Ilex aquifolium
A medium to large evergreen tree that can reach 20m, but takes many years to grow. The holly is an attractive garden tree which can be trimmed to a neat dome shape if you wish. Trees are either male or female – with berries appearing in the autumn on the female trees (but only if they have been pollinated by a male tree growing nearby). We can't tell whether your young trees are male or female.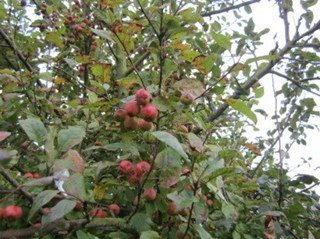 CRAB APPLE Malus sylvestris
The crab apple is a beautiful medium-sized deciduous tree that grows to a height of around 5m. White flowers open in clusters during April- May, followed by small hard edible fruits during autumn. The apples are too sour to eat raw, but they can be made into jelly or added to other fruit when jam-making to improve the 'set'. It is a good tree for wildlife, as bees and other insects visit the flowers and birds and small mammals will eat the fruit.
Source for information and images: Cheviot Trees, Woodgrow Horticulture Limited, the Woodland Trust and other advisory websites