Tourist Information Centre
Swadlincote Tourist Information Centre (TIC), serving South Derbyshire and The National Forest, is located at Sharpe's Pottery Museum in West Street.
Please GIVE US YOUR VIEWS! How useful do you find the What's on Guide? Do you use our other visitor information services, such as the Tourist Information Centre or the Visit South Derbyshire Facebook page? How could they be improved? Let us have your views before 30 November at:
https://www.smartsurvey.co.uk/s/Swad-Survey/
Thank you!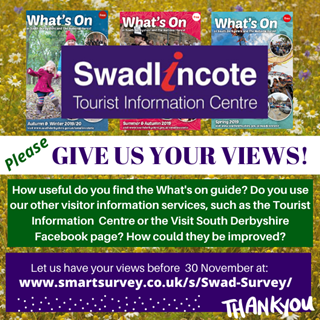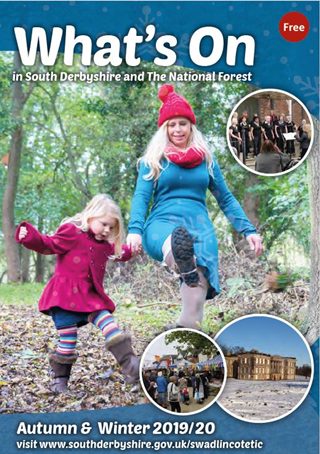 Here you will find out more about the things to do and places to visit locally through our comprehensive What's On guide which can be viewed or downloaded by clicking the download button in the top left corner below. You can also view the Attractions Guide to find out what's on offer throughout The National Forest.
If you would like your event included in the next edition (March - June 2020) or would like to advertise in the publication for events taking place in South Derbyshire, please complete the online form or contact Swadlincote Tourist Information Centre on 01283 222 848.
Friendly staff at the TIC will be able to assist with:
local and national accommodation bookings
places to visit
events and what's on
public transport information
tickets for local events and transport
booking day trips with local coach companies
Souvenirs can be purchased, including Ordnance Survey maps, history books, South Derbyshire towels and aprons and locally produced crafts.
The TIC opens between 10am and 4.30pm from Monday to Saturday. Contact the centre for Christmas and New Year opening times.
For more details, visit the Swadlincote Tourist Information Facebook page, telephone 01283 222848 or email tic@sharpespotterymuseum.org.uk.
Check out the latest What's On guide here (pdf, 4mb).