£20,000 shelter to help groups make the most of the great outdoors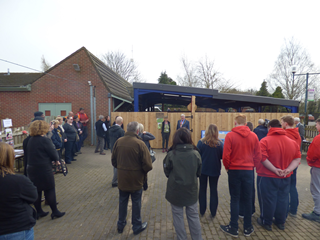 A long-held vision to build an outdoor learning shelter at a South Derbyshire tourist attraction has finally come to fruition.
The educational facility at Rosliston Forestry Centre has been officially opened after 10 years in the making.
The now-complete structure will be used for training and teaching a wide range of activities, from campfire cooking to woodland experience, shelter building and mini-beast hunting for youngsters, while allowing those doing conservation work to have sheltered breaks.
The shelter cost around £20,000 and has wooden seating and secure storage areas as well as educational displays.
Kate Allies, environmental development manager at South Derbyshire District Council's Environmental Education Project, which encourages young people to learn in a natural environment, said:
"Without the funding, donations and help from dedicated staff and volunteers this shelter wouldn't have been possible.
"Additional outdoor activities will be able to go ahead as the outdoor learning centre will provide shelter from the elements.
"I would personally like to thank everyone who had an involvement in the project."
A decade ago a group of apprentices and graduate trainees from Rolls-Royce spent nine months developing ideas, choosing the location and applying for funding and planning permission for the shelter.
Funding received from the People's Postcode Lottery and The National Forest Company assisted.
The Hudson family, who have volunteered with various projects over the years at Rosliston Forestry Centre, also personally donated £500, which will help to supply water and electricity to the shelter.
Volunteers and students from Burton and South Derbyshire College Construction Academy and the Prince's Trust have designed, made and decorated the walls and storage benches.
Any schools or groups interested in using the facility can book by contacting the Environmental Education team at Rosliston Forestry Centre via Facebook, email: rosliston@southderbyshire.gov.uk or tel: 01283 535039.
7 April 2017