Use the window of your imagination at heritage event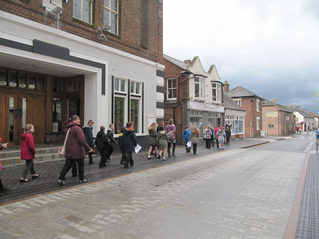 Young designers will be able to let their imaginations run wild as part of a free family activity day celebrating Swadlincote town centre.
'Look Inside' will challenge those taking part to design a shop window that would attract customers, as well as listen to traditional storytelling with a retail theme.
There will also be the chance to tour participating shops in the town to find out how they come up with their window displays.
Organised by Nature's Woodland and the Swadlincote Townscape Heritage Scheme project team, the event takes place between 10am and 2.30pm on Friday 21 April 2017 on The Delph in Swadlincote.
Storytelling, provided by Swadlincote Library, has been scheduled for 10.30am, 11.30am and 12.30pm.
Under the Swadlincote Townscape Heritage Scheme, which runs until 2018, grants will be made available for heritage-related improvements and repairs to eligible properties in the town.
Supported by the Heritage Lottery Fund, its aim is to make further improvements to the town centre and build on its history.
It has already seen the introduction of a town crier and the start of work on creating a heritage trail, while the redesign and landscaping of the Diana, Princess of Wales Memorial Garden, next to Sharpe's Pottery Museum in West Street, is in the pipeline.
There is also a focus on getting more people involved in the town's heritage through an ongoing programme of events, activities and educational programmes.
More information is available on the Swadlincote Townscape Heritage Scheme Facebook page.
Alternatively, people can contact South Derbyshire District Council's Environmental Education team tel: 01283 535039 or email: rosliston@southderbyshire.gov.uk
18 April 2017