Boxing legend's family 'touched and humbled' as road name tribute is announced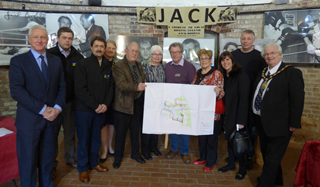 Family members of a late South Derbyshire boxing legend were VIP guests on the final day of an exhibition in his honour – and said they were 'humbled' by an announcement of a permanent tribute in the area.
Jean Bodell, wife of former British and European heavyweight champion Jack, and his daughter Faye Radbourne were at Sharpe's Pottery Museum in Swadlincote at the weekend to browse memorabilia chronicling the career of the Newhall fighter, who died in November last year at the age of 76.
The three-week exhibition proved so popular that it will be replicated by local history archive The Magic Attic at the annual South Derbyshire Festival of Leisure in the summer, with a similar display featuring additional artefacts planned at Sharpe's in October.
It has now been revealed that, at the request of South Derbyshire District Council, a new 14-home development on the corner of Oversetts Road and Main Street in Newhall will be named Bodell Close.
Being built by Hardwick Construction, the properties are in close proximity to Bodell's old home in Rose Valley, Newhall, and a depiction of some boxing gloves will be featured at the site as a permanent reminder of his achievements.
Hardwick Construction Director James Hardwick said: "I spent the first 23 years of my life living in Jack's old house in Hartshorne, so it is a really special moment to be able to announce the name of this development.
"It is an honour to have been asked by the District Council to create a lasting tribute for a local hero. Everyone is aware of Jack's achievements and it is only right they are recognised."
Bodell's daughter Faye, who lives in Coventry, said: "It is a lovely tribute, really touching. Dad was very fond of Swadlincote and hearing this news is very special.
"He was a local lad who made good and never forgot his roots. It is really comforting and humbling to know that he is being remembered so fondly by the people of South Derbyshire and beyond."
District Council Chairman Cllr Pat Murray said: "The exhibition has been wonderful, with an estimated 1,500 people from all over the Midlands and beyond having come to experience it in just three weeks, and of course it's fantastic that even more people will get the chance to see it later in the year.
"The announcement of the permanent tribute in Newhall, just a stone's throw from where Jack once lived, is a fitting nod to one of the area's most famous sons."
Bodell's old sparring partner Derrick Johnson, who lives in Swadlincote, was at Sharpe's on the final day of the exhibition and said: "Jack was such a strong lad, a brilliant southpaw.
"Seeing this exhibition has brought back so many memories and Bodell Close is the icing on the cake. They have done him proud."
Bodell defeated Joe Bugner and even sparred with the legendary Muhammad Ali during a sparkling career.
After hanging up his gloves he opened a fish and chip shop in Coventry, which the legendary Ali visited to officially open.
Bodell began boxing at the age of nine, regularly training in Swadlincote and at a gym at Newhall's Royal Oak pub.
A South Derbyshire mine worker, he started out as a light heavyweight, winning the 1961 ABA championships and a bronze medal at the European amateur championships the same year.
He first won the vacant British title against Carl Gizzi in 1969, before losing it to Henry Cooper in his first defence and then regaining it a year later by out-pointing Bugner.
Bodell retired from the sport in 1972 with a record of 58 wins, including 31 by knockout.
8 February 2017