Paralympic medallist among South Derbyshire ICON athletes backed for 2016-17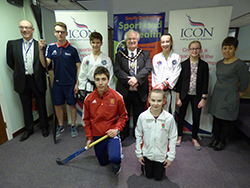 Reigning Paralympic bronze medallist Lewis White is among the talented South Derbyshire sports stars to have been inducted onto the 2016-17 ICON programme.
The Swadlincote swimmer, who finished third in the 400m freestyle S9 category in Rio, is among 10 athletes who have shared £1,350 of backing, which they can use to help meet travel, equipment, coaching or competition costs in the coming 12 months.
Each athlete has also been handed a leisure pass by South Derbyshire District Council, in partnership with leisure provider Active Nation, which will further help with their training.
A number of the athletes were presented to councillors at a ceremony held at the South Derbyshire District Council offices, Swadlincote, last night (2 February 2017).
All of the athletes are tipped for further success in their respective sports and have either been selected to compete for Great Britain or a home nation, have won a national championship medal, are part of a recognised national development squad or club academy structure or are a member of the Derbyshire Institute of Sport (DIS).
In addition to White, those to receive ICON backing include taekwondo players Hope Collard (Noble Dragon Martial Arts), Matthew Lear and Jessica Lear (Heart of England Taekwondo), and Lewis and Liam Richardson (Swadlincote).
Also supported by the programme are hockey player Gareth Griffiths (Ambaston), canoeist Ross Orme (Woodville), gymnast Caitlin Williams (Repton) and badminton player Katherine Reilly (Derbyshire Performance Centre).
Margaret Blount, from ICON administrators Derbyshire Sport, and Cllr Peter Smith, Chair of South Derbyshire Sport, met athletes to hand over their leisure passes. Cllr Smith said: "Talented athletes from across the county, including in South Derbyshire, have to give up so much, make huge sacrifices and, in many cases, travel great distances to compete."
"Any help that the ICON programme can give them to make their task that little but easier is no more than they deserve."
South Derbyshire District Council is among 10 local authorities across the county who are members of ICON, which was set up by Derbyshire Sport as part of the work to create a lasting legacy from the London 2012 Olympics in Derbyshire.
Since then, the programme has supported 2014 Commonwealth Games bronze medallist Caroline Povey (shooting), 2015 European Games gold medallist Abbie Wood (swimming) and 2016 Olympians Adam Peaty (swimming), Liam Pitchford (table tennis), Molly Renshaw (swimming) and White (swimming).
3 February 2017