Pride Park to raise a glass to the pride of South Derbyshire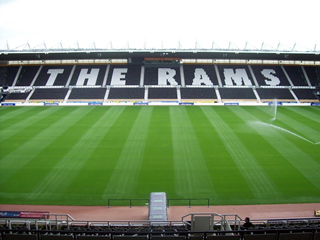 The positive difference being made by volunteers across South Derbyshire is to be celebrated in style at the home of Derby County Football Club.
Discounted tickets to watch the Rams' clash with Preston North End are on offer as part of the seventh annual South Derbyshire Day, when those who freely give up their time will be recognised both in the match day programme and during the game, out on the hallowed Pride Park turf.
Steve McClaren's high-fliers again have ambitions of securing promotion to the Premier League this season and will be hoping to topple their Lancashire opponents on Tuesday 7 March 2017 (kick-off 7.45pm).
Those living and working in South Derbyshire can purchase tickets in the North Stand priced £17.60 for adults, £12.40 for over-65s, £10 for under-18s and £5.60 for those aged under 12 by visiting Swadlincote Tourist Information Centre, based at Sharpe's Pottery Museum, in West Street, or tel: 01283 222848.
These specially priced tickets are not available direct from Derby County.
Cllr Bob Wheeler, Chairman of the South Derbyshire Partnership, which has been working with the club to arrange the event, said: "Volunteers are the often unseen and unheard heroes of our society.
"We know they do not seek recognition for what they do, but we're always keen to make sure they know how valued they are.
"South Derbyshire Day presents us with an opportunity to thank these people in a very public way and the limelight is very well deserved.
"Our thanks, as always, go to Derby County for working with us to make this occasion a success and we look forward to a special evening."
Derby County President and Chief Executive Sam Rush said: "We are once again delighted to be working with the South Derbyshire Partnership to stage the annual South Derbyshire Day at Pride Park Stadium for our home game against Preston North End.
"We believe this is a fantastic initiative and also a great way to recognise the efforts of a number of unsung heroes within the local community."
As part of the celebrations the services offered by South Derbyshire CVS, which works with community groups, voluntary organisations and individuals to improve the quality of life in the area, will be promoted in the match day programme.
13 February 2017