Table tennis facilities served up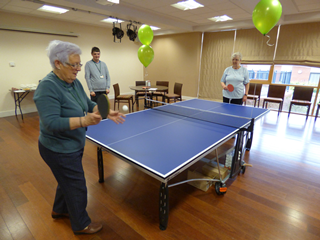 Residents of a community care facility have a new pastime to keep them active and entertained thanks to South Derbyshire District Council.
The authority has installed a table tennis table at Swadlincote's Oakland Village, paid for by a grant accessed from supermarket giant Tesco's Bags of Help initiative, which through the charity Groundwork hands out proceeds generated by the new 5p carrier bag charge to improve communities.
The funding has already paid for permanent outdoor table tennis facilities at Maurice Lea Memorial Park, in Church Gresley, as well as at Hatton and Hilton Recreation Grounds. An indoor table has been placed at the Aston Recreation Centre, in Aston-on-Trent, with two more at Swadlincote's Green Bank Leisure Centre.
Though keen to use those facilities, people living at Oakland have reported difficulties getting out and about to take advantage – so the council has taken action.
District Council Chairman Councillor Pat Murray was on hand at Oakland to officially hand over the new table, with residents given some coaching tips by council staff.
There are already plans in place to run a Sunday morning table tennis club for those who are interested.
Cllr Jim Hewlett, Chairman of the Housing and Community Services Committee at the District Council, said: "One of the major attractions of table tennis is that it's a sport everyone can enjoy, regardless of their age, physical ability, fitness level or experience.
"The tables in our parks are free to use and have already proved extremely popular, as I'm sure the table at Oakland will also.
"One of the council's key aims is to increase levels of participation in sport and physical activity across the whole population – this is just one of the ways in which we're achieving it."
10 February 2017