A smarter way to walk in South Derbyshire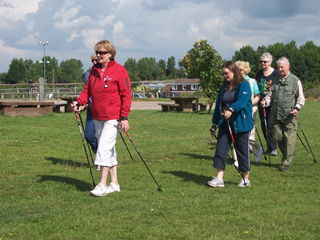 The chance to kick-start the new year with a form of exercise that is poles apart for burning calories is on offer in South Derbyshire.
Weekly Nordic walking sessions, set up by Get Active in The Forest, use poles and employ a similar technique to the upper body action of cross-country skiing.
It is proven to help burn up to 46% more calories compared to walking without poles, release tension in the neck and shoulders, improve posture, burn around 400 calories an hour, strengthen back and abdominal muscles and reduce impact on joints.
Nordic Walking originated in Finland in the 1930s and is now hugely popular all over the world - it is an activity that anyone of any age or ability can take part in, whether it's in a park, woodland, or around your local streets.
Sessions are held on Tuesdays at 10am at Swadlincote Woodlands, meeting in the reception at Oakland Village, on Wednesdays at 10am at Elvaston Castle, meeting at the courtyard near to the shop, and on Thursdays at 10am at Rosliston Forestry Centre, meeting at the foyer of the main centre.
All sessions are an hour long, where participants can walk at their own pace alongside other Nordic walkers.
Booking is not required and the sessions cost £1.50 for those bringing their own poles, or £3 for people who need to hire them.
For further information people can contact the Rosliston Forestry Centre tel: 01283 563483.
11 January 2017