Businesses and groups urged to sign up to support breastfeeding mums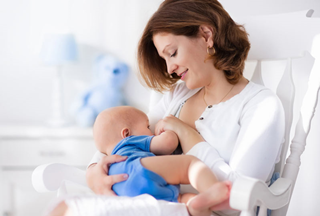 A scheme encouraging businesses and organisations to invite breastfeeding mums to use their facilities has been relaunched.
Around 50 South Derbyshire premises – from cafes and libraries to GP surgeries and soft play centres - currently hold the 'Breastfeeding Welcome Here' award, handed out under an initiative involving South Derbyshire District Council and Derbyshire County Council's children's centres.
Any establishment signing up to the scheme receives a 'Breastfeeding Welcome Here' certificate and all they have to do is provide mums with drinking water, as well as encourage their staff to help create a positive attitude towards breastfeeding.
Now, the district council wants even more organisations to come forward and in turn enjoy the benefits of attracting new families who stay longer, spend more money and recommend their positive customer experience to others.
Those who pledge their support before March 31 2017 will be in with a chance of winning a baby changing station for use on their premises.
Cllr Jim Hewlett, Chairman of Housing and Community Services at South Derbyshire District Council, said: "We are very proud to have places in all corners of the district which welcome breastfeeding mums who, by choosing to feed their babies naturally, are giving them the best possible start in life.
"We don't want to see anyone turned away in our public places. This scheme goes a long way towards making life easier for those who breastfeed and we hope more organisations will get on board.
"The bonus of attracting new customers and good publicity make it a win-win situation for anyone choosing to sign up."
Any establishment interested in securing the award should contact Leah Reed at the district council tel: 01283 228780 or email: leah.reed@southderbyshire.gov.uk
Healthier South Derbyshire has more information on the Breastfeeding Welcome Here award and a full list of those signed up in the area so far
9 January 2017