'Outstanding contribution' businesses hailed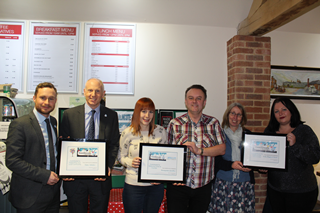 Three Swadlincote businesses have been officially recognised for their outstanding contribution to the town centre.
Awards were presented to Curly Magpie and Friends, Timms Solicitors and Baumgartners Jewellers at a Swadlincote Town Team event to thank them for their efforts.
Curly Magpie and Friends, which offers vintage goods and handmade gifts from a range of local makers and traders, was hailed for its positive impact on the vitality of the town centre, achieved through its support of local events and development of specialist markets to increase footfall.
Timms collected the 'supporting the local community' gong for its efforts in creating a 'Dementia Friendly Community' by engaging local businesses and the wider public.
Baumgartners Jewellers was commended for reducing crime and disorder through its dedication to the Shop Watch scheme, which enables improved communication and partnership working to tackle any issues, as well as its work with the police to combat anti-social behaviour.
The awards evening marked the conclusion of a successful year for the Swadlincote Town Team, a group of businesses, organisations and individuals who are passionate about the town centre and are working together to make it even better.
In 2016 its activities included the staging of Swadlincote's first ever wedding fair, as well as the production and launch of a town centre guide that features details of more than 230 retailers as well as leisure and heritage attractions.
Cllr Bob Wheeler, Leader of South Derbyshire District Council, said: "Independent businesses are the lifeblood of our thriving local economy and it's great to see these three officially recognised for their efforts in making Swadlincote and even more attractive place to be.
"I know the Town Team has even more exciting projects in the pipeline for 2017 and I look forward to seeing them come to fruition."
The Swadlincote Town Team can be found on Facebook and anyone wanting to get involved in supporting the group's activities can tel: 01283 595755.
26 January 2017