Visitors floored by Bodell exhibition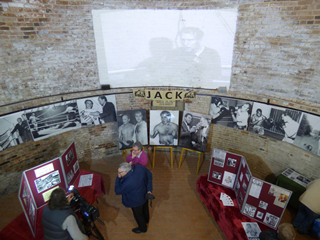 Organisers of an exhibition celebrating the life of South Derbyshire boxing legend Jack Bodell have reported a 'tremendous response' so far.
Free to attend, the display features a catalogue of pictures, film footage and memorabilia is on at Sharpe's Pottery Museum, in West Street, Swadlincote, until 4 February 2017, chronicling the achievements of the former British and European heavyweight champion, who died in November last year at the age of 76.
Visitors from as far afield as Nottingham, Wolverhampton and even Buckinghamshire have flocked to take it all in, with some donating photographs, fight programmes and other items as they keenly tell their stories of the popular Newhall southpaw.
Graham Nutt, of local history archive The Magic Attic, which – supported by South Derbyshire District Council – pulled the exhibition together, said:
"We've had visitors come from all over the Midlands and beyond, a steady stream – hundreds of people so far.
"We've obviously caused quite a stir and it's been a really positive reaction from everyone.
"It's been just how we hoped it would be and more."
Members of the public are urged to drop in and share their memories of Bodell, who defeated Joe Bugner and even sparred with the legendary Muhammad Ali during a sparkling career.
After hanging up his gloves Bodell opened a fish and chip shop in Coventry, which the legendary Ali visited to officially open.
Bodell began boxing at the age of nine, regularly training in Swadlincote and at a gym at Newhall's Royal Oak pub.
A South Derbyshire mine worker, he started out as a light heavyweight, winning the 1961 ABA championships and a bronze medal at the European amateur championships the same year.
He first won the vacant British title against Carl Gizzi in 1969, before losing it to Henry Cooper in his first defence and then regaining it a year later by out-pointing Bugner.
Bodell retired from the sport in 1972 with a record of 58 wins, including 31 by knockout.
30 January 2017