New chairman takes chains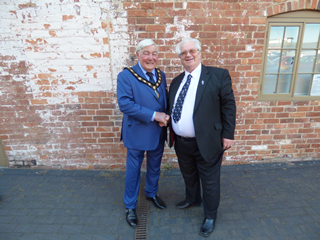 Volunteers and groups in South Derbyshire are being invited to let council Chairman Councillor Michael Stanton know about themselves and their activities.
Councillor Stanton has said he wants to "champion the cause of volunteers" during his year in office and has said he will "share their experiences and raise the profile of what they do."
Councillor Stanton represents the authority as its politically neutral figurehead. He was handed the chains of office by the outgoing chairman, Councillor Pat Murray, at the annual Civic Council meeting in May and has already been very busy.
The retired farmer is a Repton ward member and has served on the district council for six years.
He spoke of his hopes and the challenges facing the district in the year ahead. "It's a great privilege to be elected as chairman for the second time - I feel quite humbled by it,"
he said. "I'm looking forward to representing the citizens of South Derbyshire once again and will do so to the best of my abilities."
The father-of-two's consort for the year will be his wife Heather, a former teacher, with Councillor Margaret (Beth) Hall, a Seales ward member taking the position as vice chairman.
Based in Ticknall, Councillor Stanton has lived in the area all his life and has pledged to support the Rutland Air Ambulance through fund-raising in the year ahead.
He said: "My support for the Rutland Air Ambulance comes after my granddaughter Jemima was kicked in the side of the head by a horse a few years ago - she was just four at the time.
"The air ambulance whisked her to hospital with bruising on the brain. It was touch and go for four days or so, but I genuinely believe that the response of the air ambulance was the main reason she pulled through.
"I want to give something back to support their excellent work, especially in rural areas."
4 July 2017