Breastfeeding is just a walk in the park...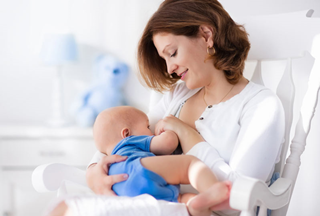 Plans have been finalised for an outdoor family gathering to support breastfeeding mums - the first event of its kind to be held in South Derbyshire.
Breastfeed in the Park is a celebration of parents who choose to feed their little ones naturally, with refreshments, games and an undercover chill-out area all on offer.
Taking place between noon and 2pm on Thursday 22 June 2017 at Swadlincote's Eureka Park, there will also be advice and information stands to support the health and wellbeing of families in the area.
It has been organised by South Derbyshire District Council to coincide with National Breastfeeding Celebration Week 2017, which starts on 26 June 2017, in conjunction with Derbyshire County Council, Derbyshire Healthcare Support and Derbyshire Community Health Services.
Councillor Jim Hewlett, chairman of the Housing and Community Services Committee at the district council, said: "We're extremely proud of the work we've done locally to encourage breastfeeding, which has included getting food businesses signed up to our 'Breastfeeding Welcome Here' award.
"Breastfeed in the Park is another example of how we are breaking down any remaining taboos which exist around breastfeeding.
"Our public spaces are maintained to a high standard for the enjoyment of people from all walks of life and circumstances, so we very much look forward to welcoming like-minded parents and families to the beautiful surroundings of Eureka Park."
Around 100 South Derbyshire premises - from cafes and libraries to GP surgeries and soft play centres - currently hold the 'Breastfeeding Welcome Here' award, an initiative involving the district council and Derbyshire County Council's children's centres.
All establishments signed up to the scheme display a 'Breastfeeding Welcome Here' certificate and pledge to provide mums with drinking water, as well as encourage their staff to help create a positive attitude towards breastfeeding.
Not only does this give mums peace of mind, but also encourages families to stay longer, spend more money and recommend their positive customer experience to others.
More businesses are encouraged to come forward. Those interested should contact Leah Reed at the district council, tel: 01283 228780 or email: leah.reed@southderbyshire.gov.uk
More information on the Breastfeeding Welcome Here award and a full list of those signed up in the area so far is available.
15 June 2017