Festival provides positive steps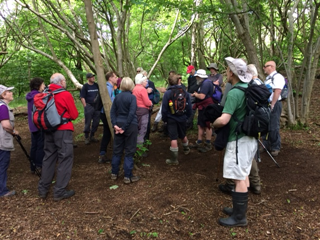 More than 1,300 people put their best foot forward during this year's National Forest Walking Festival and feedback from those taking part has been excellent.
Celebrating its tenth anniversary, the 12-day event featured 92 walks throughout Derbyshire, Staffordshire and Leicestershire, with all abilities catered for.
New for 2017 were walks linked to the 'Black to Green' project, designed to highlight how the former mining landscape of the area is reverting back to nature. These included a 'Coal pits to country parks' walk and an 'Industry's legacy to the forest' themed event.
The festival started with a Nordic walk from Moira Furnace on 13 May 2017 and continued with a packed programme that included teddy walks, buggy strolls, educational rambles and nature trails, among many others.
Feedback has been extremely positive, with those who completed a participants' survey saying they were particularly impressed by the friendliness and knowledge of walk leaders.
One walker said: "The leaders were warm and friendly and shared an abundance of local knowledge, making a particular effort to appeal to the age and interest range of the group."
Another commented: "The lady from Black to Green gave information about the group and the projects they undertake - like the butterfly bank at Moira Furnace - which added to our enjoyment."
One of the walk leaders added: "It is a great pleasure to lead those walks. I have enjoyed sharing the delights of our wonderful forest with people who are visitors to the area and show 'locals' places they hadn't visited before."
The festival was funded by South Derbyshire District Council together with the National Forest Company and Leicestershire County Council. A wide range of partners, including the council, work to turn the festival plans into reality.
Debbie Chesterman, one of the organisers, said: "We are delighted with the continued success of the walking festival; we had hundreds of participants and very positive feedback.
"In this milestone year I'd like to thank all of the individuals and organisations who played their part. Without those volunteers who give their time, effort, knowledge and enthusiasm the festival would not be possible."
13 June 2017