First Swadlincote Makers Market set to add to town's shopping offer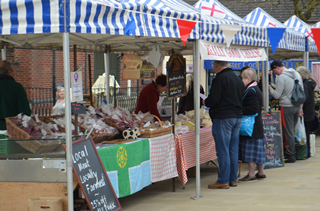 A specialist market selling unique handmade products and tasty treats is being held in Swadlincote for the first time.
The Makers Market will see a wide variety of arts, crafts, food and drink being sold along the High Street on Saturday, 25 March 2017.
It will sit alongside the traditional market, with visitors able to enjoy live entertainment while they shop.
The Sainsbury's Waste less, Save more team will also be in town demonstrating recipe ideas for making jams and preserves, while offering tips for avoiding food waste.
Clare Chalmers, one of three entrepreneurs who runs the Curly Magpie and Friends store, in the High Street, is one of those supporting the event – and she can't wait.
She said:
"We have a lot of independent traders in the shop and the High Street and the Makers Market will be a brilliant platform to showcase what they do.
"Having it on a Saturday means it is accessible to more people and we would encourage everyone to shop local and support their High Street."
The Makers Market will run between 9am and 4pm on the last Saturday of the month and combines the popular farmers' market, formerly held on a Thursday. Admission and car parking are free.
Cllr Bob Wheeler, Leader of South Derbyshire District Council, said:
"We want to further boost the appeal of Swadlincote as a shopping, leisure and events destination to attract even more visitors and shoppers to the town centre.
"As part of this we are supporting the development of independent businesses which help to make our town centre unique and markets like this are giving traders the opportunity to showcase and sell their wares.
"The Makers Market is another example of why Swadlincote has established itself as the market town of The National Forest."
Forthcoming dates for the Makers Market are 25 March, 29 April, 27 May and 24 June 2017.
Anyone interested in booking an arts, crafts, vintage or antique stall can email: info@curlymagpieandfriends.co.uk, with food, drink and other stalls being co-ordinated by Simon Wardle. email: simonwardle1@gmail.com
More information about this and other events in South Derbyshire is available by calling Swadlincote Tourist Information Centre on tel: 01283 222848.
24 March 2017