Awareness week boost for Dementia Friendly Community bid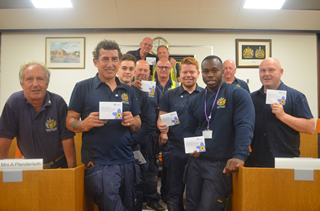 A coffee morning, information sessions and 'virtual tours' are among the events lined up in South Derbyshire as part of Dementia Awareness Week 2017.
The programme of activities is part of the district's commitment to becoming a Dementia Friendly Community, which means putting in place strategies that improves inclusion and quality of life for those living with dementia, their families, friends and carers.
One business to have pledged its support is Swadlincote's Bluebell Tea Room, which is hosting a dementia-friendly coffee morning between 10am and noon on Monday 15 May 2017.
Open to those living with the condition and their carers, people are invited to call in for a chat, information and a complimentary hot drink and piece of cake.
The following day, between 5pm and 6pm, a free Dementia Friends Information Session will be held at the same venue, aimed at representatives from local businesses to make them more aware of dementia and how their business can become more dementia friendly.
It will also provide an opportunity to find out more about how businesses can become involved in some of the wider awareness work going on in the district.
Jamie Dix, public health development worker for South Derbyshire, said:
"There are many misconceptions surrounding dementia and this awareness week is the perfect opportunity to address some of these.
"We'd like to thank the Bluebell Tea Room for its support and hope other businesses will take the chance to attend the free information session to find out how they can make a positive difference in terms of making South Derbyshire more dementia friendly."
A national programme coordinated by the Alzheimer's Society, the drive to become a Dementia Friendly Community is being steered by the South Derbyshire Dementia Action Alliance, a group of organisations – including South Derbyshire District Council, Derbyshire County Council, South Derbyshire CVS and other key partners – working together to set out how Dementia Friendly Community status will be achieved.
Limited places are available at the Dementia Friends information session at Bluebell tea Room on Tuesday 16 May 2017, so those interested in attending should book their places by contacting Jamie Dix tel: 07855 067370 or email: jamie.dix@derbyshire.gov.uk
The Richmond retirement village, in Aston on Trent, plans to do its bit for Dementia Awareness week by turning the village blue through encouraging villagers to tie blue ribbons to properties, fences, trees, lampposts and shops.
It will also host Dementia Friends Information Sessions throughout the week.
A 'Virtual Dementia Tour' will visit Aston on Friday 19 May 2017, where people will be given the chance to step inside the life of someone living with dementia via the use of virtual reality.
Held at the All Saints Heritage Centre, there will be three, two and a half hour tours between 9.30am and 5.15pm, with 12 places available on each and booking essential.
More information is available by emailing sallyann.hackney@richmond-villages.com or gay.evans@richmond-villages.com
Finally, a Dementia Friends Information Session will take place between 1pm and 2pm at Swadlincote's Oakland Village on Friday 19 May 2017. More details are available by emailing simon.farneti@tridentreach.org.uk
5 May 2017