New trails lead the way to heritage discovery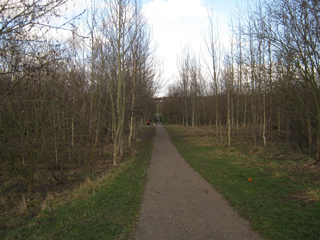 Nature enthusiasts and those interested in getting clued up on their local heritage are being urged to try out two new walking trails at a South Derbyshire beauty spot.
History archive The Magic Attic has provided photographs to feature in new booklets, which will guide walkers around Swadlincote Woodlands and bring its history to life.
South Derbyshire District Council's Parklife Officer, Yvonne Waring will be heading up both the 1.5-mile Access For All Trail on Friday 19 May 2017, which has been designed to give wheelchair users safe and easy access to be able to enjoy its industrial heritage and the 2.75-mile Nature Trail on Monday 22 May 2017, which focuses on woodland habitats.
The walks will be part of the National Forest Walking Festival taking place between 13 and 25 May 2017 where more than 90 walks across Staffordshire, South Derbyshire and North West Leicestershire are showcased.
South Derbyshire District Council has funded the festival along with Leicestershire County Council and the National Forest Company.
Yvonne Waring, said:
"There is so much to learn and enjoy at Swadlincote Woodlands, with interesting historical and wildlife facts and plenty of picturesque scenery to take in.
"Our Access For All Trail welcomes everyone to come and enjoy their local heritage, from wheelchair users to people with pushchairs."
The trail leaflets for the two walks can be picked up from Swadlincote Tourist Information Centre, based at Sharpe's Pottery Museum in West Street.
The National Forest Walking Festival programme can be picked up from Swadlincote Tourist Information Centre, as well as at Rosliston Forestry Centre, Ashby Tourist Information Centre and Leicestershire libraries.
More information is available by contacting Swadlincote Tourist Information Centre tel: 01283 222848 or email: tic@sharpespotterymuseum.org.uk
17 May 2017