Ready, steady, grow appeal for community allotment volunteers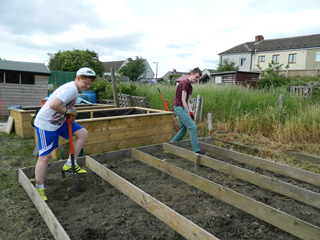 An appeal has gone out for a bumper crop of volunteers keen to get their hands dirty at a community allotment.
People of all ages are required for sessions being held throughout the summer at Midway Allotments, in Chestnut Avenue, as part of South Derbyshire District Council's Go Grow gardening club.
The scheme, run by the authority's housing services team, encourages members of the public to grow their own fruit and vegetables and donate them to worthwhile causes across the district.
These include the South Derbyshire CVS food bank, families in need and a programme which teaches youngsters and vulnerable adults how to cook healthy meals.
It is hoped that Go Grow will eventually be run solely by community volunteers, who will be able to take away some of the goodies produced to cook themselves healthy, wholesome food.
The district council's Tenant Participation Officers, Laurie Devitt and Sharon Cole, are encouraging as many people as possible to come along to the following allotment maintenance and planting sessions:
Thursday 1 June 2017 – 1pm to 4pm
Wednesday 14 June 2017 – 10am to 12.30pm
Wednesday 21 June 2017 – 10am to 12.30pm
Wednesday 28 June 2017 – 10am to 12.30pm
Wednesday 23 August 2017– 10am to 2pm.
Laurie said:
"So many people nowadays buy ready meals, which can be expensive and often contain high levels of sugar and salt.
"By encouraging people to learn about growing their own produce, they will hopefully be more willing to cook meals from scratch using fresh seasonal ingredients.
"Outdoor activity is proven to boost health and wellbeing and cut down on social isolation. Our sessions are a perfect way to have fun and make friends while giving back to your community."
The sessions are not restricted to council tenants – everyone is welcome to attend.
All equipment will be provided, but participants are asked to wear sensible footwear and appropriate clothing for outdoor activities.
Booking is essential, tel: 01283 595803 or 07891 071980, or email: tp@southderbyshire.gov.uk
24 May 2017