Show your love for your local market this May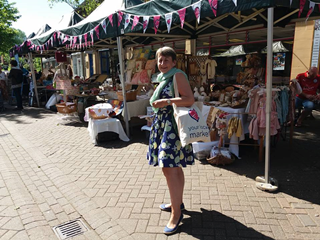 Free market pitches designed to attract new entrepreneurs and businesses are to be made available in South Derbyshire as part of a national celebration of Britain's markets.
From 19 to 27 May 2017, Swadlincote Market will welcome new traders under the annual Love Your Local Market scheme, which highlights the important and unique role markets play at the heart of communities.
Led by the National Association of British Market Authorities and sponsored by Gala Tent, more than 1,200 markets have signed up to take part this year, all with the aim of boosting economic activity and supporting the vitality of shopping areas.
Year 7 pupils from William Allitt School will be in Swadlincote on Friday 19 May, Tuesday 23 May and Friday 26 May 2017 to develop their enterprise skills by running a market stall selling handmade crafts, cakes, upcycled books and lemonade, alongside activities to raise money for the charity Book Aid International.
Then, between 9am and 4pm on Saturday 27 May 2017, it's the specialist Swadlincote Makers Market, where the usual array of crafts, vintage, food and drink and traditional stalls will be on offer.
Among the highlights there will by an appearance from textile artist Ami James, who started life as a trader on Swadlincote Market and now owns Simply Needlecraft Haberdashery and Sewing Studio in the High Street.
Part of the Derbyshire Open Arts 2017 programme, which provides opportunities to visit artists throughout the county, Ami will be demonstrating her talents and offering shoppers the chance to buy some of her handmade and unique creations.
Meanwhile Andy B Goode, a 1950s rock 'n' roll singer, will provide live entertainment at the Makers Market.
Graham Wilson OBE, chief executive of the National Association of British Market Authorities, said:
"Love Your Local Market is the biggest market event in a generation. It gives people the chance of a new career and demonstrates how important the market is to the local community.
"We intend to make Love Your Local Market once again the biggest and best markets campaign the UK has ever seen."
Love Your Local Market started in 2012 amid fears around the sustainability of the nation's high streets and, to date, participants have staged more than 11,000 events.
More information is available on the Swadlincote Markets Facebook page or via @SwadMarkets on Twitter, with anyone interested in hosting a stall urged to contact Market Manager Simon Wardle tel: 07879 276243 or email: simonwardle1@gmail.com
Businesses and members of the public are urged to get involved by sharing their pictures, stories and videos on social media by using the hashtag #LYLM2017 and tagging in Swadlincote Markets.
18 May 2017