Chair marks resident's prestigious University award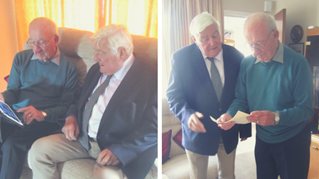 A visit has been made by the Chair of South Derbyshire District Council to a resident of the District who has been awarded a University accolade at the age of 89.
Cllr Michael Stanton travelled to Willington (this morning) to honour Alan Gifford who has been awarded an Honorary Master of the University of Derby for his dedication to an industry about which he remains passionate.
Mr Gifford was presented with the accolade by the University for his contribution to welding and quality management at International Combustion Ltd, Derby.
The octogenarian worked in welding and quality management as Chief Welding Engineer and subsequently Quality Manager for over 40 years at Derby's well renowned engineering giant, International Combustion Ltd (ICL).
He was celebrated for engineering thousands of welds for numerous huge power station boilers and nuclear installations throughout the world.
After retiring, he then went on to play a key part in restoring the Grade II* listed Heage Windmill.
On receiving the University award, Alan Gifford said:
"Being recognised and awarded an honorary degree from the University of Derby is truly an honour; I am so very proud to receive this.

"ICL was a leader in technology, resulting in the delivery of some amazing engineering achievements and, never had a single pressure vessel it produced fail during testing, or in service. I am honoured to have been a part of this.

"I am also proud to have played a key part in bringing the Heage Windmill back to its former glory for the present and future generations to admire and enjoy."
He introduced many innovative welding techniques and formal quality standards to ICL which achieved the company highly regarded qualifications such as ISO 9001 and ASME 1, which enabled ICL to export boilers to America. (ASME= American Society of Mechanical Engineers).
After Alan retired, he still remained active by writing several books on his favourite subject, "Wind and Watermills."
Being an active member of the Midland Wind and Watermills Group led him to Heage, near Belper where, in 1996, he was a founder member of Heage Windmill Society, leading to the restoration of the mill in 2002.
Commenting on his visit, Cllr Stanton said:
"We wanted to formally recognise Alan's achievements and it was wonderful to spend time chatting with him today.

"South Derbyshire is home to some engineering giants and we are fully aware of the importance the sector and those working in it have. Alan fully deserves the recognition he has achieved."
23 August 2018