Schools give fascinating insight into democracy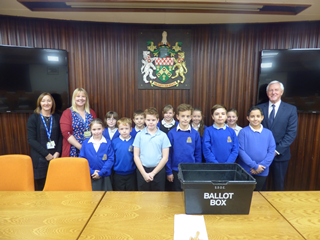 Students have enjoyed a fascinating insight into the world of local democracy thanks to South Derbyshire District Council.
Elected Members have been visiting schools across the District to inspire young people to have their say and get involved in the decision making process.
Schools have also been visiting the Council Chamber in Swadlincote and even took part in mock elections.
All events and activities form part of Local Democracy Week, which is extended in South Derbyshire to span several months.
Cllr Martyn Ford, Leader of the Council, held debates on a wide range of topics with sixth form students at the John Port Spencer Academy in Etwall.
He said: "Local Democracy Week offers students the opportunity to increase their knowledge about community affairs.
"Events like these help young people develop debating skills, learn about democracy and become more engaged with decision-making locally."
Cllr Gordon Rhind, who represents the Church Gresley ward on the Council, visited the Pingle Academy in Swadlincote.
He said: "The students had a clear grasp of the various topics and put forward their opinions succinctly and persuasively.
"Hopefully my visit has planted a seed about the importance of having a voice and will lead to more young people using their vote when the time comes."
Council Chief Executive Frank McArdle invited Belmont Primary School and Pennine Way Junior Academy to the Civic Offices in Swadlincote.
The schools discovered how the Council is run, held a mock ballot and took part in an exercise to learn how to budget and prioritise services.
Mr McArdle said: "We promote democracy all year round with a variety of activities.
"During Local Democracy Week and beyond we try to offer something for everyone and find new ways of challenging young people into thinking more about how democracy plays such a major role in our communities.
"These activities are a brilliant opportunity to showcase the ways young people can get involved, have their say and make a difference to their local area."
21 December 2018