Residents invited to see democracy in action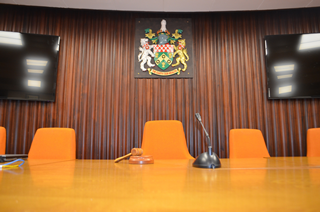 Residents are invited to watch democracy in action in South Derbyshire and see what their local Councillors are doing for them.
Someone who's done just that and has seen the Full South Derbyshire District Council meeting in action is Midway resident Pauline Jas.
The University of Nottingham lecturer said:
"I would encourage people to go and see democracy in action, to witness it live. It is very interesting.

"You get to see the debate between different parties and councillors, and where there is general agreement or disagreement on key issues and approaches.

"What comes across most of all is how everyone wants to do the best for South Derbyshire."
Local voices count and residents are encouraged to attend any one of the South Derbyshire District Council Full Council meetings, committee meetings and/or Area Forums.
Area Forums are designed to spark a sense of community spirit as well as inspire ideas and conversations from people who are at the heart of local matters. They are also a chance to learn more about the latest 'hot topics' affecting their area through open, transparent and honest conversations.
Recent Area Forum meetings have explored topics such as crime and anti-social behaviour, bin collections, community building projects, speeding safety, road signage issues, nuisance parking and Derbyshire County Council matters such as potholes.
Ardip Kaur, Legal and Democratic Services Manager and Monitoring Officer at South Derbyshire District Council, said:
"We welcome residents to join us at our Council meetings, so that they can experience the heart of democracy and see how we're connecting with our community.

"They are interesting experiences and will allow residents to see topics that affect them in their daily lives.

"Topics and conversations are all based on a shared vision, to make South Derbyshire a better place to live, work and visit. We welcome feedback and we are always looking at more ways of increasing public engagement and participation."
Once residents have had a taste of live-action democracy, they can also submit questions which relate to any one of our services, such as street care, planning, housing, licensing and crime and community safety.
A maximum of two questions can be submitted two days before the meeting by e-mailing democraticservices@south-derbys.gov.uk.
Alternatively, you can write to the Chief Executive, c/o Legal & Democratic Services at the Civic Offices, Civic Way, Swadlincote, Derbyshire, DE11 0AH.
Why not give it a go yourself and see how your community is being made a better place to live, work and visit? Visit the online calendar on our website www.southderbyshire.gov.uk/about-us/councillors-and-meetings/public-questions-at-council-meetings to find out how you can get involved.
14 May 2018