Permanent tribute unveiled for 'Suffragette and Rebel'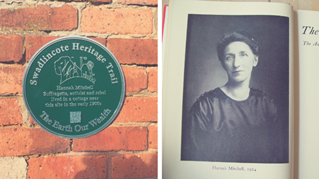 Suffragette, activist and rebel - Hannah Mitchell became synonymous with fighting for the rights of women and the working class.
The pioneer's legacy and influence have been recognised after a plaque was erected on Oversetts Road, near to where she used to live in Newhall.
It is part of South Derbyshire District Council's Swadlincote Heritage Trail, celebrating the town's inspirational industries, individuals and places.
Mitchell was born into a poor mining family in 1872 and grew up resenting unfair treatment such as being made to stitch her brother's socks while he got to relax and that she was denied the opportunity to go to school.
As she entered adulthood, she thought that a lack of education would stop her from making a contribution to changing and improving the lives of working families and particularly giving more opportunities to women
Through hard work and persistence, Mitchell turned that theory on its head, gaining an education herself, campaigning for a better education for women and fighting for the right to vote in early 20th century Britain.
Her achievements have been immortalised near the location of the cottage she shared with her husband and son in Newhall, with members of the National Federation of Women's Institute joining Council representatives to see the permanent tribute unveiled.
Cllr Martyn Ford, Leader of South Derbyshire District Council said:
"Women like Hannah Mitchell were true pioneers in the field of women's rights and their remarkable dedication and conviction in their beliefs helped to blaze a trail for us all.

"We can think of no better tribute to her historic accomplishments than for this lasting tribute to be unveiled in South Derbyshire to celebrate heritage, diversity, inclusion and progress in a uniquely beautiful and striking way."
In 1904, Mitchell joined the Women's Social and Political Union, a group headed by renowned activist Emmeline Pankhurst and whose members became known as suffragettes.
After disrupting a political meeting in 1906 which future Prime Minister Winston Churchill was speaking at, Mitchell was charged with obstruction and given a three-day jail sentence.
Much to her frustration, her husband, who she lived with in Newhall for a time, paid her fine so she could leave jail after one day. As she noted in her autobiography, The Hard Way Up: "Most of us who were married found that 'Votes for Women' were of less interest to our husbands than their own dinners. They simply could not understand why we made such a fuss about it."
In 1924 Mitchell was elected to Manchester City Council and remained a member until 1935. In her autobiography, published 12 years after her death in 1956, she said one of her proudest moments was getting a public wash house built to make working-class women's lives easier.
Mitchell is one of more than 50 people, places and businesses celebrated in the Swadlincote Heritage Trail. Further information is available at www.southderbyshire.gov.uk/HeritageTrails.
Councillor Martyn Ford, Leader of South Derbyshire District Council said:
"Our town is rich in culture, heritage and inspirational industries and individuals. The plaque unveiling is part of the Heritage Trail, which gives residents from near and far the opportunity to explore our fascinating town and discover some amazing stories such as how Hannah Mitchell fought for the rights of women and the working class."
16 November 2018