Signing marks bright future for Derbyshire's Japan link on 20th anniversary celebration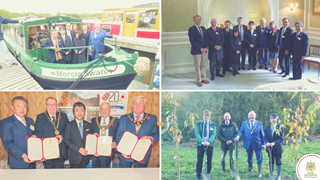 Council leaders in Derbyshire have further strengthened a long-standing international link which has brought thousands of jobs and huge investment to the county over the last 20 years.
Derbyshire County Council, Derby City Council and South Derbyshire District Council are celebrating the 20th anniversary of their twinning with Toyota City in Japan which was established in 1998.
A programme of events is taking place to mark the anniversary of the relationship which was established when car giant Toyota Motor Manufacturing (UK) Ltd built its first European factory in Burnaston.
Over 2,500 people are employed at the factory which supports a thriving supply chain and continues to pump millions of pounds into the local economy every year.
A delegation from Toyota City spent four days in Derbyshire to discuss further ways of working together, with a focus on promoting the county as a destination for Japanese tourists.
An anniversary memorandum document was signed by representatives from Toyota City and the three Derbyshire authorities during a ceremony at Derbyshire County Council's County Hall headquarters in Matlock on Tuesday 30 October.
It re-affirms the twinning link with a commitment to explore further opportunities including tourism, education, protecting the environment and sport for the benefit of both regions.
Derbyshire County Council Leader and Cabinet Member for Strategic Leadership, Culture and Tourism Councillor Barry Lewis, said:
"It has been a fantastic few months getting to know visitors from Japan, learning from one another and building strong links so we can work together in the future.

"Increasing trade, boosting tourism, and improving educational, environmental and sporting links are all key priorities of ours and this partnership plays an important role in achieving this."
The Japanese delegation includes representatives from Toyota City Council, Toyota International Association, Toyota Chamber of Commerce and Industry and Aichi Toyota Agricultural Cooperative Association.
Cllr Michael Stanton, Chairman of South Derbyshire District Council, said:
"We are very proud that South Derbyshire is home to the Toyota plant and so many of its employees.

"As this visit demonstrates, our relationship continues to go from strength to strength and we look forward to working closely with Toyota City to benefit the district and its communities for many years to come."
Councillor Chris Poulter, Leader of Derby City Council said:
"We couldn't be prouder of our 20 year partnership with Toyota City. Both cities have strong industrial backgrounds and continue to be world leaders in manufacturing and engineering. It's wonderful to welcome Mayor Ota and our Japanese visitors to the city and continue to strengthen our ever growing friendship."
Professor Kathryn Mitchell, Vice-Chancellor of the University of Derby, said:
"We were delighted to host the delegation at our Markeaton Street site, where they were able to tour our facilities, see research in action and meet with students and academics from our arts and engineering disciplines.

"As part of the 20th anniversary celebrations, we have embarked upon research projects with Chukyo University, Tokyo's National Museum of Nature and Science and the Japan Agency for Marine Earth Science and Technology. This supports our partnership approach, which we believe is mutually beneficial and delivers on our international strategy."
The 20th anniversary will mark an expanding partnership which now includes the University of Derby, Derby College, Burton and South Derbyshire College, The National Forest, Marketing Derby, Marketing Peak District and Derbyshire, Repton School and the East Midlands Chamber of Commerce.
The programme of events to celebrate the anniversary included visits to Castleton, David Mellor Design Centre, The National Forest, Sharpe's Pottery Museum, Treak Cliff Cavern, Haddon Hall, Burton and South Derbyshire College, Repton School, the University of Derby and Mercia Marina in Willington.
There was also a tour of the Derby City Council House, the Derby Arena and an unveiling of a plaque commentating the 20-year partnership between Toyota and Derbyshire.
An official celebration event will take place in Toyota City on the anniversary which is on Saturday 17 November.
The celebrations kicked off in September when Toyota City under 12s football club experienced the Heights of Abraham and laced up their boots for a couple of friendly matches against Derby County FC under 12s and Burton Albion under 12s.
Later that month, Derbyshire's businesses were in the spotlight at the Toyota City Industry Festival in Japan.
Iconic products and services from Derbyshire and Toyota City were showcased in a bid to improve tourism, trade, educational, environmental and sporting links between the two areas.
And in October, students from Toyota Junior High took to the peaks of Derbyshire, visited famous landmarks including Chatsworth House and the Derwent Valley Mills and stayed at Derbyshire County Council's Lea Green Learning and Development Centre.
To find out more about the project by visiting derbyshire.gov.uk/ToyotaCity
2 November 2018