South Derbyshire rubs shoulders with global powerhouses after winning an international award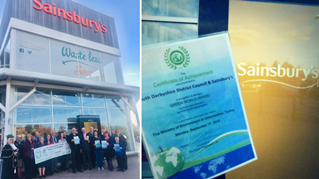 South Derbyshire has gone head to head with global powerhouses while in the running for an international award in honour of its work to drive down food waste.
The Fab Food project, run by South Derbyshire District Council and funded by Sainsbury's, helped schools to reduce food waste by up to 37 per cent.
Its innovative approach saw it shortlisted for a Green World Environment Award, designed to find the greenest countries, organisations and communities.
At an awards ceremony in Ankara, Turkey, it was announced that South Derbyshire had beaten off more than 500 nominations to scoop the bronze award.
The District narrowly finished behind Klang Municipal Council, Malaysia, which won gold for recycling illegally dumped used cooking oil found in the drainage system.
Seocho-Gu Office Korea and Environment Department of Dubai Municipality shared silver for installing large parasol shades in public areas to block UV rays and developing an app to forecast marine conditions respectively.
Those involved in Fab Food say it is fitting recognition to see the project rubbing shoulders with such high profile names.
Cllr Martyn Ford, Leader of South Derbyshire District Council, said:
"We are immensely proud of our efforts to combat food waste in schools across South Derbyshire. It is an honour to be recognised on a global level and to see so many young people take a real interest in saving food that would have otherwise been destined for the bin. We hope that this will inspire and motivate others and have a positive knock-on impact on households across the District."
Fab Food was written and delivered by the Council's Environmental Education Project, which saw experts work closely with pupils and teachers to drive down food waste.
The programme was completed by Swadlincote's Springfield Junior and Belmont Primary schools, Eureka Primary School in Midway, Woodville Schools Federation and Stanton Primary School. Elmsleigh Infant School, in Swadlincote, Albert Village Primary School and Church Gresley Infant and Nursery School also reaped the benefits.
A Sainsbury's spokesperson commented,
"We're delighted the Fab Food project has been internationally recognised for its successes in reducing food waste. We continue to work hard to tackle food waste and hope this project inspires others to follow suit."
Further information on the Fab Food project can be found at www.southderbyshire.gov.uk/wlsmschools
9 November 2018