Virtual reality, a hybrid car and flight simulation workshops on offer at Skills Festival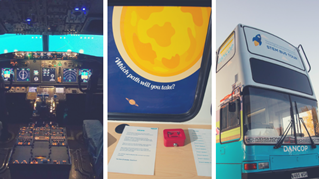 Interactive workshops, hundreds of career opportunities and expert advice will be on offer at the South Derbyshire Skills Festival.
The free festival at Swadlincote's Green Bank Leisure Centre on Wednesday, November 28 is designed to enable 11 to 24-year-olds to explore the construction, engineering, health, hospitality, digital, lifestyle and technology industries.
Attendees can take part in a variety of hands-on workshops between 4pm and 7pm, one of which includes learning more about the engineering ingenuity behind Burton and South Derbyshire College's cutting edge hybrid car.
The Science, Technology, Engineering and Math (STEM) bus will deliver eye-opening sessions by the Derbyshire and Nottinghamshire Collaborative Outreach Programme on the human skeleton, cyber security, forensics, adult life and much more besides.
There will also be opportunities to learn about salaries and budgeting, apprenticeships and employer expectations. Youngsters can have a go at activities including virtual welding, flight simulation, beauty and construction to help choose a future career path.
Swadlincote's IG Masonry Support Systems, a division of Europe's largest manufacturer of steel lintels and masonry support systems, is sponsoring the event.
Managing Director Andy Neal said:

"IG Masonry Support is delighted to sponsor the South Derbyshire Skills Festival. It's a fantastic event allowing young and talented individuals to think about their future and be inspired by all of the opportunities open to them. We look forward to seeing everyone on the day and providing an insight into careers available here at the Keystone Group."
The event is organised by South Derbyshire District Council, Burton and South Derbyshire College, William Allitt School, the Derbyshire Education Business Partnership, Jurys Inn, Department for Work and Pensions and the Derbyshire and Nottinghamshire Collaborative Outreach Programme.
Other exhibitors include Chameleon School of Construction, Keystone Group, East Midlands Airport, Marks and Spencer Distribution, Hoar Cross Hall, St Modwen Homes, The Army, Derby County Community Trust, Burton and South Derbyshire College, Derbyshire County Council and the Active Sports Partnership.
Advanced bookings can be made for workshops by visiting www.eventbrite.co.uk and searching for South Derbyshire Skills Festival. For further information, please contact the District Council's Economic Development Team on 01283 595791.
23 November 2018