A musical feast for charity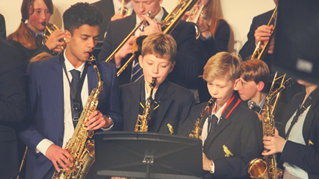 Following the success of a charity concert involving musicians from a Derbyshire school which raised more than £2,000 for the Derbyshire, Leicestershire and Rutland Air Ambulance, a second evening of musical delights has now been organised.
Over 100 pupils from Foremarke Hall, Repton's prep school, aged from six to 13, will perform a programme of music designed to appeal to all tastes and ages. The concert this time will take place in the historic Pears School building at Repton School on Thursday, November 8 starting at 7pm.
Foremarke's Orchestra, Wind Band, String Ensemble, Percussion Ensemble, Concert Band, Chamber Choir, Girls' Choir, Boys' Choir, Sax Ensemble, Jazz Band, Brass Ensemble, Harp Solo and Combined Choir will all feature, providing a mixture of musical styles.
Commenting on the November concert, Cllr Stanton said:
"The first was very well received and extremely successful in raising funds for my chosen charity. I am delighted Foremarke Hall has agreed to help again.
"We hope to do even better this time and I encourage everyone to come along to what I know will be a wonderful evening."
Tickets for the event, which also include an after-concert reception, are priced at £10 and are available from Swadlincote Tourist Information Centre by telephoning 01283 222848 and from Foremarke Hall school office on 01283 707100. All proceeds will go to the Derbyshire, Leicestershire and Rutland Air Ambulance.
22 October 2018