First spade in the ground at new Council housing site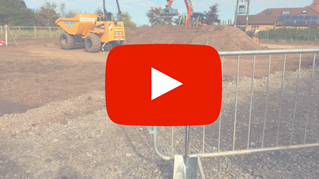 A ground-breaking ceremony has been held to mark the beginning of work at a new Council housing development in South Derbyshire.
Six two-bedroom properties, all designed to the highest standards, will be built on disused land in Lullington Road, Overseal.
South Derbyshire District Council is working closely with developer G F Tomlinson to take the scheme from the drawing board to reality.
Elected Members, Council officers and other VIPs donned hard hats and Hi-Vis jackets to get the first spade in the ground on Thursday, October 18.
Cllr Jim Hewlett, Chairman of Housing and Community Services at South Derbyshire District Council, said:
"It never fails to be an exciting moment when a project with so much potential starts on site.

"Thanks to the quality of the specification and design, these homes will provide an excellent living environment for residents and enhance the local landscape.
"The Lullington Road development is another major milestone in our ongoing commitment to meet the housing needs of future generations in South Derbyshire."
Work on the scheme, which is jointly funded by the Council and Homes England, is due to be completed in spring 2019.
Andy Sewards, Managing Director of G F Tomlinson, said: "We're delighted to be working with South Derbyshire District Council on this housing site within the District.
"These properties will be built to the highest standards, enabling them to perform efficiently and reduce tenants' energy bills to create warm, secure homes."
Completion of the project will take the Council's housing stock to 3,000 as it continues to reduce a waiting list which has more than 600 applicants.
A total of 45 Council homes have been built in locations across South Derbyshire over the last two years.
First spade in the ground at new Council housing site
24 October 2018