#GBSpringClean success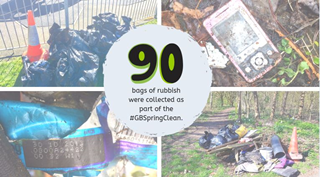 A Monopoly game, chocolate wrappers and drinks cans that went out of date eight years ago, as well as a toupee, were among the items that went into 90 sacks of rubbish collected during Great British Spring Clean litter picks in South Derbyshire recently.
Championed by environmental charity Keep Britain Tidy, the Spring Clean has seen determined #LitterHeroes, join forces to help spruce up Swadlincote town centre and Castleton Park, Church Gresley.
In total, the #SwadlincoteHeroes clean-up collected 30 bags of rubbish alongside two green bins of plastic and tins for recycling, whilst Castleton Park community spring clean saw around 60 bin liners filled with rubbish.
A chair, scooter, shopping trolley, car radio, mattress, wheel, traffic cones, decking, washing basket and a washing up bowl were among the discarded rubbish collected.
South Derbyshire District Council's Economic Development Officer Nicola Lees, who co-ordinated the Swadlincote event, said:
"I really enjoyed participating in the Swadlincote #GBSpringClean litter pick, and particularly working with other local businesses including McDonald's and Stan's Pals to make the town a place where people want to live, work and visit. Not only does it benefit our local environment, it's also a great way to improve mental and physical well-being, as well as meet other like-minded people.

"I'm a strong believer that collective actions can make a significant positive impact, and this is what motivates me to inspire others to join us in becoming #SwadlincoteHeroes."
The Council provided equipment, which included litter picks, gloves and high visibility vests as well as collection of the filled refuse bags, for the two events.
10 April 2019