Food donated to mental health charity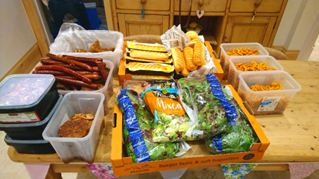 A South Derbyshire music festival has shown it rocks in more ways than one after donating 39kg of food to a Swadlincote-based service dedicated to supporting adults with mental health issues.
Burgers, vegetables and cooked chicken were among the items that made their way from the Bloodstock Festival, at Catton Hall, to the Bank House - South Derbyshire Mental Health Association.
Groups that benefitted from the donated dishes include low-income families, elderly residents and people with learning difficulties.
The kind gesture was made by DJ Catering and overseen by South Derbyshire District Council's Environmental Health team as part of its work to encourage traders to consider alternatives to throwing surplus food away.
DJ catering generously donated fries (4.25kg), salad (1.7kg), cheese (700g), bread (2.5kg), chicken (7kg), burgers, sausages (18kg) and coleslaw (5kg) from three of its mobile food vans.
Jon Shillabeer, Manager of Bank House, based in Alexandra Road, Swadlincote, said:
"This is much appreciated! We are so pleased to receive generous donations like this. Everyone's a winner because it avoids food waste and feeds those in need. The age range we look after are from 22 to 65. Some of these people who have benefited from this donation include those that are sofa-surfing, unemployed or on Benefits.

"We're grateful to DJ Catering and the Environmental Health team at South Derbyshire District Council for helping to make this happen."
All donated food passed environmental health checks and came with food safety information before being distributed.
Cllr Martyn Ford, Leader of South Derbyshire District Council, said:
"We are proud to have played a part in cutting down on food waste and helping those in need. We would like to encourage more people to follow in these footsteps as every little helps.

"We'd urge anyone who has leftover food from events, festivals and barbecues to think twice before throwing it out, as there are vulnerable people who could benefit."
Further information about preventing food waste at events is available by telephoning 01283 228780.
21 August 2019