Windows are a picture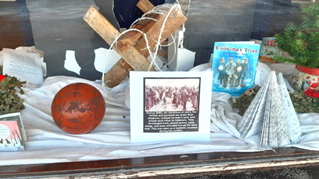 Christmas carols have been brought to life by businesses in Swadlincote for a shop window competition organised by South Derbyshire District Council.
Part of the festive celebrations, businesses and organisations with premises in the town were invited to dress their windows on the theme of Christmas carols. The competition attracted more than a dozen entries.
The overall first impression, content, design and interpretation of theme were all taken into consideration as part of the judging criteria.
The displays were judged by SDDC Chairman, Cllr David Muller, Chairman of the Swadlincote & District Chamber of Trade, Mr Robert Coe, and Mrs Bridget Edmonds, a member of the Edmonds family who initiated the competition several years ago.
The winner of the retail category was David Elks Opticians who featured two different carols, one in each window. A scene of the nativity complete with shepherds, kings and a star, illustrated 'The First Noel'. The second window 'Joy to the World' developed the theme placing gold, frankincense and myrrh alongside a globe and suitcase, to express the worldwide impact of the nativity. Commended were Prince & Bates Opticians.
In the category for community/charity organisations, the winner was Swadlincote Library with Hillfields RSPCA commended. The library window featured The Christmas Truce – the truce between Allied and German troops in Christmas 1914.
The displays will remain in place for all to enjoy over the festive season.
4 December 2019