Wildlife Watch Family Activities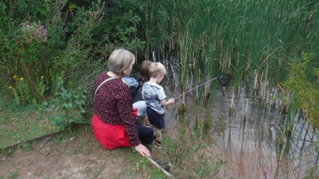 Mini explorers are being invited to take part in a variety of family-friendly interactive Wildlife Watch activities in South Derbyshire this summer.
Sessions, which are ideal for youngsters aged from 4 to 12, are led by Rosliston Forestry Centre's Environmental Education Team and take place every Tuesday from 2pm to 4pm during the holiday period.
They kick off on Tuesday, July 30 when youngsters can hunt for minibeasts living in the lake. Equipment will be provided but family groups may be asked to share. This session will be repeated on Tuesday, August 20.
Bring your family to learn all about the tremendous world of trees on Tuesday, August 6. Crafty kids can have a go at making their own tree dial and take part in a tree trail to discover fascinating facts and stories about their surroundings. Did you know that an oak tree may support more than 280 species of insect?
On Tuesday, August 13, mini adventurers are invited to head out on a guided 'Minibeast Safari' walk to explore various habitats on site and meet some of the smallest creatures at Rosliston Forestry Centre.
On Tuesday, August 27, families can explore the site looking for 'Signs of Summer' and record their findings.
The popular 'Grab it for your Rabbit' initiative also takes place on Tuesday, August 27 where guests are invited to take mowings from the Wildflower Meadow to use as animal feed. Those attending should bring their own bags so that they can rake and collect hay for their furry friends for free between 1pm and 4pm.
Apart from the Grab It session, most activities cost £2.50 per child. 'Signs of Summer' is £2.50 per family group. Children must be accompanied by an adult.
For more information on the Wildlife Watch activities, please pick up a copy of the 'Wildlife Watch Family Activities 2019' leaflet from Rosliston Forestry Centre or Swadlincote Tourist Information Centre. More information is available by calling 01283 535039 or emailing rosliston@southderbyshire.gov.uk.
To keep up to date with all the environmental events and activities on offer at Rosliston, follow @RoslistonEnvEd on Twitter or visit the Facebook page.
There is also more information Rosliston Forestry Centre's website: www.roslistonforestrycentre.co.uk
29 July 2019