A circus, part-man, part-tree and giant tortoises!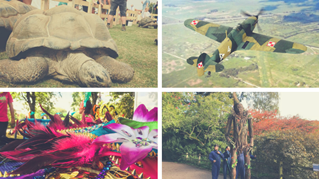 An action-packed weekend of free entertainment is around the corner when mesmerizing shows, exciting fairground rides, delicious food and rhythmic music will come to life at South Derbyshire District Council's Festival of Leisure.
Roll up, roll up! For the first time ever, the event will be welcoming The National Festival Circus on the Saturday. Guests can expect to be dazzled by a magical mix of laughter and excitement consisting of slapstick clowns, balancing equilibrists, fast tempo juggling, baffling magic, high flying diablos and hypnotic spinning hoops.
Another unmissable first for Maurice Lea Memorial Park is Arbor – part-man part-tree! Follow Arbor as he tells the story of a tree pushed from his home and his fight to preserve his future. The performance will feature amazing puppets alongside beautiful visual storytelling.
Fancy yourself as a bit of a selfie king or queen? Be sure to take a selfie with vibrant carnival costumes provided by East Midlands Caribbean Carnival Arts Network.
Back by popular demand, guests will also get the chance to meet Aldabra giant tortoises. Originally from the Indian Ocean islands, they can grow over 122cm in length, weigh over 200kg and can live for up to 200 years.
The RAF Hurricane fly-past is scheduled to take place at 1:49pm on the Saturday and the RAF Dakota fly-past is scheduled to take place on 1pm on the Sunday.
Martyn Ford, Leader of South Derbyshire District Council, said:
"The Festival of Leisure is always a show-stopping event in the District. The unusual and unmissable entertainment usually attracts thousands of families to the event. This year, they can enjoy a few new acts we have lined up as well as Instagram-worthy entertainment, daredevil-type sports taster sessions, interactive children's activities, delicious food and live music.

"The entertainment also includes Tribal Taiko Drumming Performance & Workshops, Celtic School of Irish Dancing, Charlie's Angels Dance Academy and The Red Barrows. There will be something for all to enjoy.

"It's a real opportunity to celebrate everything that's great about our superb District and to show it off to visitors from across the region and beyond. We look forward to seeing everyone there, having some fun in the Swadlincote sunshine."
On Sunday, thrill seekers can watch Pedal Power vs Parkour - the only show of its kind in the UK. The display combines the incredible skill, balance and power of a trials rider and the finesse of a gymnast /parkour athlete.
Active (and competitive!) families can take part in the Active Warrior Mini Course – an obstacle course including a wall climbing challenge, scramble nets and log carrying. Visitors can escape the summer for a few moments and have a go at the exhilarating snowboarding simulator on both days.
Keeping it classic for all generations to enjoy - Punch and Judy will be there with several performances each day.
The 2019 Festival of Leisure, supported by Bright Side Vets is expected to attract around 10,000 people. It takes place at Maurice Lea Memorial Park at Church Gresley from 12.30pm to 5pm on Saturday and Sunday, June 29 and 30.
Download your programme of entertainment HERE (pdf, 1.2mb).
20 June 2019