Cycle sculpture launched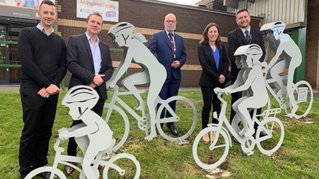 A new sculpture created to help promote cycling as a healthy family activity and to mark a range of cycling-related initiatives in South Derbyshire has been officially launched at Green Bank Leisure Centre in Swadlincote.
Created and sponsored by Eggleston Steel, the idea for the artwork came from a meeting between South Derbyshire District Council who owns the leisure centre and Active Nation who manage it.
The partners were looking for ways to promote healthy lifestyles and raise awareness about new cycling programme and facilities at Green Bank. They also wanted to let people know about plans to improve lockers and cycle bin arrangements to support people wanting to cycle to work in Swadlincote.
Active Nation Group Business Manager Shaun Tasker took the overall design concept to a corporate sponsor who came up with the end design which features a family out for a cycle ride laser cut from steel and powder coated to protect it.
The sculpture has been funded by South Derbyshire District Council and Active Nation with significant subsidy from the fabricator Eggleston Steel who has also paid for installation of the artwork.
A plaque to acknowledge the sponsor and record date of installation has been installed and South Derbyshire District Councillors Dan Pegg and Kerry Haines attended an official handover ceremony on Thursday. (June 20) The plaque reads: Cycle sculpture Cycle Hub: Cycle Hub initiative in partnership with South Derbyshire District Council and Active Nation. Created by Eggleston Steel Ltd.
Commenting, Cllr Pegg, who is Chair of Active South Derbyshire, said: "The artwork looks wonderful and prompts people to ask questions. This means it is serving its purpose – it enables staff at Green Bank Leisure Centre to talk about cycling as an activity."
Cllr Haines, Vice-Chair of Environmental and Development Services Committee which promotes sustainable travel, added: "It is good to hear that the sculpture is proving successful; it is also an attractive piece of street artwork that has generated positive comments."
20 June 2019