Big South Derbyshire Spring Clean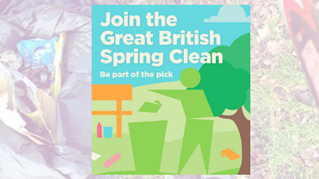 Residents and businesses of South Derbyshire are being invited to come out in force with one mission in mind – to take a stand against litter.
The Council is taking pride in continuing its fight against litter across the District by getting involved with this year's Great British Spring Clean (GBSpringClean), run by environmental charity Keep Britain Tidy.
The month-long event takes place from Friday, March 22 to Tuesday, April 23 and is hoped to be the biggest environmental event of the year.
Keen litter-pickers can get involved with an ever-growing list of clean-up events taking place across the District – two of these are Castleton Park, Church Gresley on Sunday, March 24 and Swadlincote Town Centre on Tuesday, April 2.
For those who have registered their event on the Great British Spring Clean website, the Council will be providing:
Loaning litter picking equipment, including litter picks, gloves and high visibility vests
Standard refuse bags
Collection of filled refuse bags
Publicity of your event successes.
Litter picking equipment will be offered on a first-come-first-served basis.
Those interested in setting up or getting involved with the initiative across South Derbyshire as a #LitterHero are being urged to register on the Keep Britain Tidy website
HERE
– which also includes a supply of useful resources and guides for those taking part.
Those interested in becoming a #SwadlincoteHero are being urged to register
HERE
.
Last year, over 370,000 #LitterHeroes joined forces to collect litter at 13,500 #GBSpringClean events across the UK.
In South Derbyshire the work will also include a series of key messages on social media with the #LitterHero, #SwadlincoteHero and #GBSpringClean hashtags.
Keen #SwadlincoteHero pickers should meet at the newly refurbished Diana, Princess of Wales Memorial Garden on West Street from 10am to 12pm on Tuesday, April 2 where pickers, bags and a map will be provided.
South Derbyshire District Council and Swadlincote Town Team continually work together to take action after listening to public feedback. Swadlincote Town Team is a coalition of businesses, organisations, volunteers and local residents who care passionately about the local area.
To help take action on community feedback, the initiative is also seeking out #SwadlincoteHeroes Ambassadors to continue the fight against litter.
Students from local schools and Burton and South Derbyshire College are also being invited to participate on the day to help develop their confidence. Youngsters under the age of 16 will need to be accompanied by a responsible adult at all times.
Anyone willing to donate equipment, such as gloves, first aid kits and refreshments, can Email economic.development@southderbyshire.gov.uk.
Businesses that wish to enquire about litter picking equipment should contact waste.cleansing@southderbyshire.gov.uk with contact details, group name (if applicable), date of your litter pick (groups will be supported with equipment for events occurring anytime during March and April), the location of your event, how many volunteers are expected and items and quantities required.
To find out more about volunteering opportunities in the District, contact South Derbyshire CVS on 01283 219761.
14 March 2019