Woman jailed for animal neglect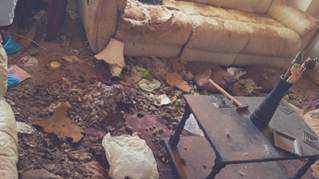 A South Derbyshire woman has been jailed for 12 weeks, given a lifetime ban on keeping pets and ordered to pay more than £3,000 costs after pleading guilty to two charges of animal neglect.
Jenny Ann May Johnson, of 58 Elmsleigh Drive, Midway, pleaded guilty following prosecution by South Derbyshire District Council at Southern Derbyshire Magistrates Court.
Johnson admitted causing unnecessary suffering to a Staffordshire bull terrier called Casper and a cat called Riley by allowing them to foul in her living room.
She also admitted a second charge of causing unnecessary suffering to the same animals by failing to secure their needs for a suitable environment, their need to be able to exhibit normal behaviour patterns and the need to be protected from pain, suffering injury, and disease.
The Council's Environmental Team inspected Johnson's property in July and discovered her pet dog and cat living in the sitting room and kitchen which were piled high in the animals' faeces.
At the property, the Council officers were greeted by animal excrement littering the living room carpet and kitchen worktops, as well as pools of urine.
They said that while the cat was mainly unscathed, the Staffordshire Bull Terrier suffered inflammation to his paws connected to the unhygienic conditions. The court was told that the dog was seized at the time of the raid and the cat, which was not at home, was picked up later.
The court also heard that Johnson underwent mental health tests which determined she had capacity to be responsible for her actions. However, an appropriate adult had been asked to sit in for her interview.
Ardip Kaur, the Council's Head of Legal and Democratic Services, said:
"This case raises awareness about what happens if pets aren't cared for responsibly. Our officers visited the resident after they were sent photographs of the property by the landlord who raised concerns. This was truly a team effort and we're pleased to see that the Council has achieved a successful prosecution."
More information is available online at www.southderbyshire.gov.uk
10 May 2019