New operator for Rosliston Forestry Centre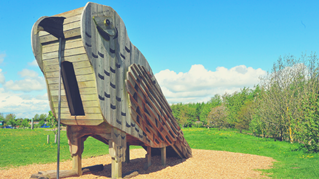 A business opportunity to run a major leisure attraction in South Derbyshire will be advertised in the New Year.
The owners are looking for a new operator to run the Rosliston Forestry Centre for a 15-year period starting in the autumn of 2020.
The Forestry Centre was the first community woodland to be planted in the National Forest. It is now a well-established outdoor woodland attraction centre where visitors can walk, jog, cycle, play, learn and even stay overnight in a fully equipped Forest Lodge!
The Forestry Centre is jointly owned by South Derbyshire District Council and Forestry England, and it offers a broad range of new business development opportunities.
Mary Bagley, Head of Cultural Services and a member of the Executive Group overseeing the procurement exercise, said
"We are looking for an ambitious new operator who has the experience and investment to revitalise the Forestry Centre. We aim to make Rosliston the most popular free to enter outdoor day visitor attraction in the East Midlands!"
The Council's Environmental Education Project and the Get Active in the Forest Project will continue to operate at the Forestry Centre.
The new operator will be selected through a competitive tender procedure.
11 November 2019