New homes handed over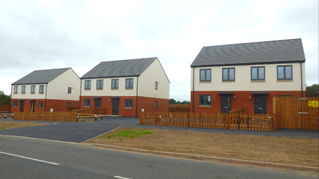 A ribbon-cutting ceremony has been held to mark the handover of six new homes to South Derbyshire District Council at the authority's latest affordable homes development in Overseal.
Six two-bedroom semi-detached properties, all designed to the highest standards, have been built on disused land in Lullington Road. The homes will be rented out at affordable rent levels and have all been allocated to people in housing need via the Council's Housing Register.
The Chair of Housing and Community Services Cllr Andy Roberts and Seales ward member Cllr Andrew Brady together with Council Officers Allison Thomas, Strategic Director – Service Delivery and Strategic Housing Manager Eileen Jackson, all gathered at the site to declare it complete and to have a tour around the houses.
Part-funded by Homes England, the properties have been built to high environmental standards to ensure they are energy efficient, helping to keep tenants' energy bills down as well as creating a minimal carbon footprint.
They have also been fitted with a water mist system to provide fire protection and this has been part-funded by Derbyshire Fire & Rescue Service.
Cllr Andy Roberts, Chairman of Housing and Community Services at South Derbyshire District Council, said: "It is exciting to see this project complete and to know people in need of housing are about to start living in them.
"The properties look terrific, inside and out, they have made a beneficial contribution to the landscape and there is no doubt they will provide an excellent place for the residents to enjoy.

"The Lullington Road development is another significant step in our ongoing commitment to meet housing needs in South Derbyshire and to ensuring that all new Council housing is environmentally efficient."
South Derbyshire District Council has worked in partnership with several organisations to bring the project to completion. Tom Smith from Gleeds provided the project management and Dipen Vanmali of Pick Everard provided the Clerk of Works and contract management services. The properties have been designed and built by GF Tomlinson Building Ltd.
South Derbyshire District Council continues to build new affordable homes with developments at Moor Lane, Aston-on-Trent and Milton Road, Repton, to provide a further 16 properties currently under construction.
These developments are particularly fitting in the year which marks the centenary of the Addison Act – an ambitious Housing Act which promised government subsidies to help finance the construction of houses following the Great War. The 1919 Act - known as the 'Addison Act' after its author, Dr Christopher Addison - was a highly significant step forward in housing provision.
It made housing a national responsibility, and local authorities were given the task of developing new housing and rented accommodation where it was needed by working people, something SDDC is proud to continue doing.
10 September 2019