National Forest Walking Festival cancelled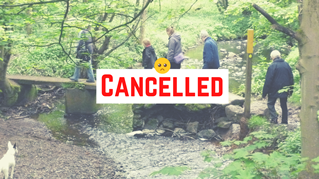 The National Forest Walking Festival due to take place next month has been cancelled.
The decision to cancel the event, due to take place between Saturday 16 and Thursday 28 May, was taken by South Derbyshire District Council and the National Forest Company due to the continued coronavirus (COVID-19) social distancing restrictions.
The Festival would have offered 118 different outdoor opportunities across South Derbyshire, East Staffordshire and North West Leicestershire for residents and visitors to walk and take part in different outdoor activities, showcasing the National Forest at its best.
Councillor Martyn Ford, South Derbyshire District Council's leader, said: "Although it is disappointing that this year's National Forest Walking Festival has had to be cancelled, the safety of our residents and visitors to the National Forest is of the utmost importance.
"I'd like to thank the more than 35 dedicated voluntary groups and organisations who worked to put the exciting programme together. We would like to thank every organisation who had contributed to the programme and we hope to bring all of these activities to you at the 2021 Festival."
John Everitt, Chief Executive of the National Forest Company, said:
"It is hugely regrettable that the National Forest Walking Festival has had to be cancelled, but people who live in the Forest are fortunate to have a choice of accessible woodlands and open spaces available for their daily exercise as encouraged by government. As long as it is easily accessible from your home, and you take care to observe social distancing, do take advantage of the benefits of being outdoors in the National Forest for your physical and mental well-being."
One of the more unusual walks that would have been part of the National Forest Walking Festival is now online. You can suggest a book for the Walking Library for Forest Walks, until 30 April. What book would you take on a walk in the forest you dream of, as we are all in these stay-at-home times? Instead of taking the book on a real forest walk in May, the Walking Library will open its pages digitally on 16 May for seven days (see Twitter @NatForestCo). This is a real library that will be physically gathered and catalogued and held at the National Forest Company offices for future use in the Forest. See more and suggest your book here: https://www.nationalforest.org/campaign/the-walking-library
Information on accessing the Forest is available at nationalforest.org. It is essential that we all follow the Government's advice to stay local and stay safe. For the most up to date Government advice please go to www.gov.uk/coronavirus (which may have changed since the publication of this article).
22 April 2020