South Derbyshire residents asked not to burn rubbish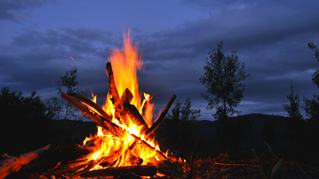 South Derbyshire residents are being asked not to burn garden waste following an increase in the number of complaints about bonfires over the last few weeks.
The social distancing restrictions announced by the Government along with the recent sunny weather has encouraged residents to clear out their gardens. This has consequently led to an accumulation of household and garden rubbish.
Residents can continue to place their garden waste in their brown bins as usual.
Councillor Andrew MacPherson, chair of South Derbyshire District Council's environmental and development services committee, said:
"We are fortunate that all bin collections in South Derbyshire are currently being carried out as usual despite the difficulties caused by the Coronavirus (COVID-19) pandemic.

"We have redeployed staff and brought in extra vehicles to ensure the collections are able to go ahead whilst observing social distancing so people do not need to burn their garden waste."
Bonfires have a negative impact on local air quality and can be prejudicial to the health, particularly to those with respiratory illness.
There are no specific times of the day or days of the week when bonfires are allowed. A bonfire can have damaging effect on health or cause a nuisance to neighbours at any time.
Derbyshire Fire and Rescue Service is asking people to reconsider having bonfires in the garden. Bonfires can cause unnecessary call outs to the service and while crews are tied up responding to such fires, they aren't available to attend potentially life-threatening emergencies.
20 April 2020