Tim Peake Space Sapling lands at Rosliston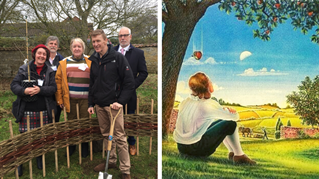 South Derbyshire District Council's Environmental Education Project at Rosliston Forestry Centre is very proud to be a recipient of one of eight young trees from the pips from Isaac Newton 's apple tree that were blasted into space with British European Space Agency (ESA) Astronaut Tim Peake.
Apple pips from the iconic Newton tree were taken on the Principia mission in 2015 by British astronaut Tim Peake to the International Space Station. The pips then spent six months floating in micro gravity as part of the 'Pips in Space' project, before returning to Earth in 2016.
On their return from space in 2016, the well-travelled pips went to Wakehurst, Kew's wild botanic garden in Sussex and home to the Millennium Seed Bank, where they spent 90 days at 5°C to simulate the winter cold needed to break dormancy. In May 2017, they were warmed to 15°C and the young seedlings started to emerge.
The UK Space Agency, the National Trust and the Royal Botanic Gardens, Kew, worked together on the project.
The Environmental Education Team was selected to share the story of space travel, Isaac Newton, horticulture and the excitement of science. This was due to its outstanding work over 25 years in environmental education working with partners including Rolls-Royce on encouraging young people to embrace STEM (Science, Technology, Engineering, Maths) through practical activities; work on projects to promote the benefits of engaging people with their environment and the importance of learning about science; and its support of outreach work with children and adults by Rosliston Astronomy Group.
SDDC's Environmental Development Manager, Kate Allies, received the tree from Tim Peake at a special ceremony at Woolsthorpe Manor, National Trust today (January 13). Kate was accompanied by Heather Lomas and Ed Mann from Rosliston Astronomy Group and by South Derbyshire District Council Cultural Services Manager Malcolm Roseburgh.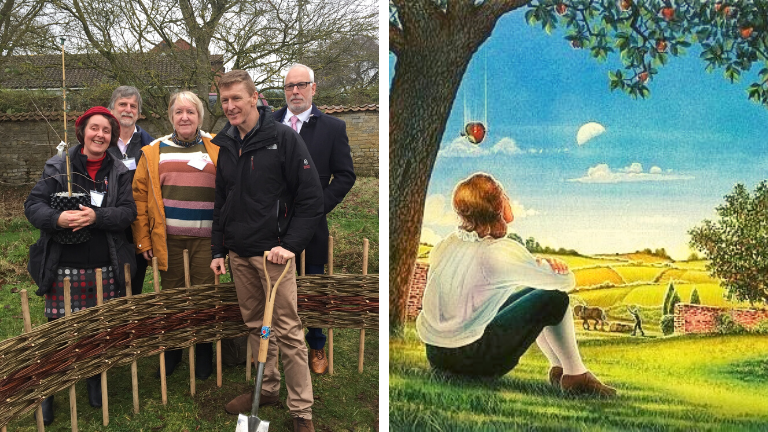 Among the other seven locations to have been awarded one of the trees are the Eden Project (Cornwall), Jodrell Bank Discovery Centre (Cheshire) and the United Nations Office for Outer Space Affairs (Vienna)
Speaking at the event, Tim Peake said: "These trees are truly unique. They come from the iconic apple tree that inspired Sir Isaac Newton to ponder the forces of gravitation and continues to inspire to this day.

"My mission to space was named Principia in homage to Newton's defining work that included his world-changing ideas about gravity. I wanted my Principia mission to inspire others, particularly young people, with the adventure of space and the excitement of science.

"Now, thanks to the careful nurturing at Kew, the apple pips that flew with me into space have grown into fine young trees which I hope will continue to inspire potential Isaac Newtons."
Cllr Martyn Ford, Leader of South Derbyshire District Council, said: "We are delighted that one of these well-travelled trees has come down to earth in South Derbyshire, to flourish in the heart of the National Forest.
"We look forward to celebrating this with visitors to Rosliston Forestry Centre and offering joint science learning programmes and public events with Rosliston Astronomy Group, Rolls-Royce plc, Forestry England and our own Environmental Education Project team – starting with a Science Discovery Day on May 2."
The tree will be nurtured at Rosliston in an undisclosed secure place.
13 January 2020