Residents reminded to follow social distancing as town centres reopen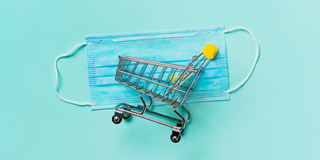 South Derbyshire residents are reminded of the need to maintain social distancing measures as non-essential shops and businesses begin to reopen in the district.
Town centre shops selling non-essential items are able to open from Monday 15 June. This comes following the recent reopening of Swadlincote Market each Tuesday, Friday and Saturday.
People visiting the town centres should follow any one-way or queueing systems that may be in place including limits for the number of people that can enter a shop at any given time.
They should also wash their hands regularly where possible and use hand sanitising gel where it is provided.
Shoppers should also choose contactless payment wherever available and where possible avoid peak times to help prevent the spread of coronavirus (COVID-19). Public toilets will remain closed for the time being for public safety reasons.
Councillor Martyn Ford, South Derbyshire District Council's leader, said:
"Many of our town centre shops and businesses have experienced hardship since the Government's social distancing measures were put in place in March.

"We have supported eligible businesses with grant funding and we will continue to support town centre businesses as they reopen.

"Although we encourage people to use our shops and businesses, it is down to all of us to act sensibly when visiting our town centres by following all social distancing measures that are in place and taking responsibility for their actions to help prevent the spread of coronavirus."
New Government guidelines will mean that anyone visiting the town centres using public transport must wear a face mask while travelling.
Anyone with an appointment is also asked not to arrive early to reduce the number of people in public places at any time.
Free parking is available in both Swadlincote and Melbourne town centres.
For more information, visit: www.southderbyshire.gov.uk.
12 June 2020