Salute and pay tribute to our British Armed Forces - Saturday 27th June 2020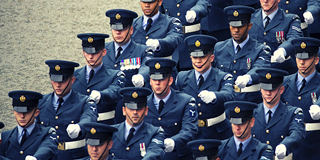 Armed Forces Day is an opportunity for us to show support for the men and women who make up the Armed Forces community: from currently serving troops to Service families, veterans and cadets.
This year the tribute is even more poignant as the Armed Forces support the NHS and Emergency Services to keep us all safe during the current coronavirus (Covid-19) pandemic. Troops have been involved in delivering PPE and other supplies to the NHS, carrying out testing, helping to build temporary hospitals and assisting in the production of ventilators to name but a few of the things they've been supporting.
Celebrations begin on Monday 22 June when the Armed Forces Day flag is raised on buildings and famous landmarks around the country. Look out for South Derbyshire's flying high on South Derbyshire District Council Civic Offices building on Civic Way.
We also recognise the important role of our Reserve Forces on 24th June.
Unfortunately, due to the coronavirus pandemic, national and local events have been cancelled, but you can still show your support on Saturday 27 June.
It's really easy to get involved in Armed Forces Day, you can…
Salute our Forces
#SaluteOurForces is a simple way for anyone to pay tribute to the British Armed Forces community for their hard work, dedication and efforts to and keep us safe in the UK and across the globe– check out the best salutes in the Armed Forces Day Facebook album here.
To join in, simply send a photo or video of yourself or your friends and colleagues saluting!
You can submit your images in several ways:
Please note: your photo may be used on the Armed Forces Day website or social media channels. See website for terms and conditions to find out more.
Saluting like Service Personnel
If you want to make sure you get it right, you can watch short videos to show you how the Royal Navy, British Army and Royal Air Force salute – so you can take your pick! Watch the videos here
The Royal Navy salutes with hand facing down but the British Army and Royal Air Force salute with palms out:
Which method will you choose when you send your image in to #SaluteOurForces?
You can join in and fly your own Armed Forces Day flag, bunting, hand-wavers, or banners. Search "Armed Forces Day Flag" on your preferred search engine to find your options.
South Derbyshire District Council is committed to supporting its Armed Forces Community. The Council reaffirmed this commitment by signing up to the Derbyshire Armed Forces Covenant in March 2019. See more information here: The Armed Forces Covenant.
19 June 2020